Tour de France Grand Depart diary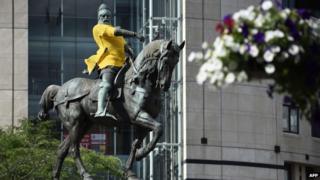 With the world's biggest bike race starting in Leeds on 5 July, BBC Yorkshire's Tour de France correspondent Matt Slater rounds up the best of the gossip, opinion and stories, on and off the bike, and also tries to explain some of cycling's unique lingo and history.
TOP STORIES
Somebody far brighter than the diary could probably fashion a very accurate Grand Depart countdown clock out of the times that these diaries appear every day: this one has just beaten sunset, let us hope Friday's makes it online before the race starts on Saturday. Never mind, have you noticed how yellow Yorkshire is? Even the central Leeds statue of Edward of Woodstock, aka The Black Prince, is wearing a maillot jaune for the Tour period. Edward, of course, enjoyed big stage wins at Crecy and Poitiers in the Tour de Hundred Years.
Full story: The Yorkshire Post
Nobody has enjoyed the yellow-fication of Yorkshire as much as this correspondent, but there are limits: the Emley Moor TV mast in Kirklees, for example. It has come to our attention that plans are afoot to illuminate the UK's largest free-standing structure later this week, turning it into the "world's biggest light sabre". Now, we are all in favour of a bit of decoration, but if there is any damage done to Emley Moor you will have Harry Gration to answer to, and his audience south of Huddersfield.
Full story: Huddersfield Examiner
Yorkshire's East Riding has been feeling a little left out in recent months - 250 miles of Tour de France racing this weekend and not one of them on its patch. Hull, the UK's City of Culture 2017, did get in on the action on Tuesday, though, by providing a landing point for the Tour's temporary invasion. A ferry-full of flat-bed trucks, carnival floats, sponsors' wheels and VIP mobiles rolled off the King George Dock bright and early, ready to create their first traffic jam of the week.
Full story: Hull Daily Mail
CYCLING ROUND-UP
The good thing about writing this so late is that we can finally get some good news in about team line-ups at Le Tour. Having spent the last few days (or is it decades?) writing about Team Sky's Byzantine internal politics, British riders with curiously bad cases of man flu and general injury woe, a team has actually picked an Englishman to ride in this most English of Tours.
Step forward Bury's Simon Yates, the 21-year-old with a big future that starts right here, right now. A world champion on the boards, and 3rd at last year's Tour of Britain, Yates is something of a surprise pick because of his age and his injury-plagued season. But he has bounced back from a broken collar bone to finish seventh at the recent Tour of Slovenia and then claim third at the British road race championship.
His twin brother Adam does not make the cut, though, despite enjoying a remarkable breakthrough season. In some ways, he has almost been too good, having ridden more days, and ridden them much harder, than his Australian team Orica-GreenEdge could have predicted at the start of the season. He and his brother will get plenty of chances to ride Tours together in the future.
TWEET OF THE DAY
"With the #TDF just days away here's your chance to ride with @GiantShimano. Join us @weetwoodhall 1.15pm sharp on 2nd July for a short ride."
Want to join Marcel Kittel, Jon Degenkolb & co on an Otley Run on bikes? Here is your chance. Remember where you heard it last.
THE COUNTDOWN - 4 DAYS TO GO
Given the news about Simon Yates, this is obvious, innit? There will be four British riders on the start line in Leeds: one from the post-Empire Diaspora, one from a self-governing crown dependency in the Irish Sea, another from a part of the United Kingdom with a devolved government and the last from Greater Manchester, truly a team for Britain's constitutional experts. Can you imagine how complicated things would have got if our Belgian-born, northern-based Londoner had made the cut, or if the Maltese-born, Hong Kong-raised, English-educated Scot had convinced his team that he was over the sniffles? We really are better together.