Quinoa: From Bolivia to the fields of Shropshire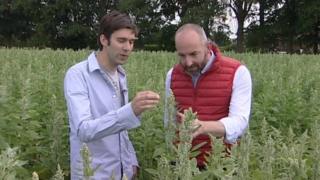 So the UK's first commercial crop of quinoa is currently ripening in fields just south of Ellesmere in Shropshire.
Quinoa is a trendy grain that is booming in popularity.
An essential part of a modern celebrity cookbook, you will find it in salads, in posher sandwich shops and in raw form on the shelves of larger supermarkets.
Until now, almost all of the quinoa we eat in this country has been imported from South America.
But in 2006 Shropshire farmer Stephen Jones spotted that there might be an appetite for quinoa grown here in the UK - especially as those who search out this sort of product are also interested in things like food miles.
So Stephen grabbed a few bags of quinoa from a health food shop and tried to grow it. Without much success.
New variety
As the years went on he tried lots of different varieties and lots of ways to grow it.
This year, he's got a new variety which seems to be very happy growing in Shropshire. He's also cracked many of the technical problems connected with growing it.
Since the grains are quite small, couscous sized, the depth the seed is drilled is crucial. Too deep and it won't germinate, too shallow and it will dry out and also fail to grow.
As it is a new crop in Europe there are no recognised weed killers that can be used. All of which means it needs a bit more care and attention than conventional crops.
But Stephen thinks he's cracked the problems and that he'll produce 100 tonnes this year. While niche, he believes the potential market for UK-grown quinoa could be more than 2,000 tonnes.
He's looking for other Shropshire farmers to help him grow quinoa and he says they'll get a premium over the price they might get for wheat.
Lots of spice and extra flavour
There are other UK farmers trialling smaller plots, but this is the largest UK quinoa crop grown so far and the only one of this particular variety that seems to enjoy the climate in this country.
Which just leaves two vital questions.
First of all, what's the secret of cooking it? It can tend towards the bland in the hands of the novice.
Stephen recommends lots of spice and extra flavour for the quinoa grains to soak up.
And secondly how do you say it?
Its fans call it "keeen waah", which is how the South Americans say it.
Stephen, however, says it's simpler to say quinoa. And he's the guy who's growing our only large-scale commercial crop, so what he says goes.