High speed trains to stop at east Kent stations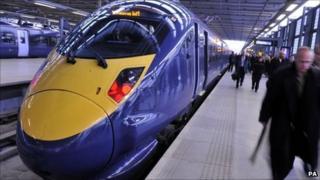 Rail passengers in east Kent are to benefit from a high speed connection to London as a result of long-term work at London Bridge station.
Construction work at the station over the next three years will cause months of disruption for commuters.
Southeastern said in order to "balance the effect" on passengers it would boost its high speed services and run extra trains to other London hubs.
Proposed new timetables will take effect from 11 January 2015.
They include improvements to services and changes needed to accommodate the work at London Bridge.
'Enormous challenge'
The work is part of the £6.5bn government sponsored Thameslink Programme, which Southeastern said would "dramatically increase capacity and reduce delays".
Commuters from across the South East will be affected from January 2015 until August 2016 when Charing Cross services will not be able to stop at London Bridge, and from August 2016 for two years when Cannon Street services will not stop there.
High speed trains to and from St Pancras International will stop at Snodland, Birchington-on-Sea, Martin Mill and Walmer for the first time.
A regular hourly service will also start from Deal and Sandwich to St Pancras, via Margate, Whitstable and Faversham.
Charles Horton, managing director of Southeastern, said the timetables had been released early so that passengers could plan ahead.
"The project to rebuild London Bridge station is an enormous challenge and one of the biggest railway construction projects since the Second World War," he said.
"The government investment will provide a brand new station with a concourse the size of the pitch at Wembley Stadium, new journey opportunities to the north and south of England, and this will untangle the railway lines to remove the bottleneck we experience today."