Tour De France 2014: Yorkshire ambulance staff to strike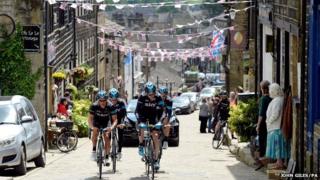 Ambulance staff in Yorkshire have voted to go on strike during the weekend of the Tour de France in a long-running dispute over working patterns.
The Unite union said its members had voted "overwhelmingly" to take industrial action on 5 and 6 July.
It claims new shift patterns could affect patient safety.
David Whiting, chief executive of Yorkshire Ambulance Service NHS Trust, said he was "disappointed" but that robust contingency plans were in place.
The Grand Depart begins in Leeds on 5 July and the Tour continues from York to Sheffield on 6 July.
Terry Cunliffe, regional officer at Unite, which represents about 378 of the trust's 4,600 employees, said: "Separate arrangements have been made and additional resources are in place for the Tour de France.
"My priority is to maintain patient safety for 365 days of the year, not just for a cycle race."
'Total disregard'
Mr Cunliffe added: "Unite's door is open for talks under the auspices of the conciliation service Acas at any time."
Mr Whiting said there was "no mandate for strike action with less than 50% turnout from Unite members".
"By choosing to take industrial action over the weekend of the Tour de France - when Yorkshire will be proud to be showcasing its people, places and warm welcome to a worldwide audience - it reflects the total disregard Unite has for the welfare of patients," he said.
"Their actions are clearly designed to try and disrupt vital services for local residents, visitors and vulnerable patients who find themselves in an emergency situation."
The union has been taking striking action since the dispute started last summer.
Unite believe new shift patterns could mean staff working 10 hours without a meal break.
It has claimed this would be "unsafe" for staff and could risk patient safety, an allegation the trust has denied.