Can Osborne deliver on northern powerhouse pledge?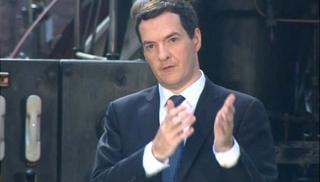 George Osborne has spoken about creating a northern powerhouse in the region's towns and cities.
At the heart of that was the idea of a new HS3 high speed rail link between Leeds and Manchester.
But where do the Chancellor's plans leave a place like Middlesbrough that wouldn't be on that line?
Spending cuts
The town was certainly a Victorian powerhouse - it was once known as Ironopolis. But today it has some of the highest levels of unemployment in the UK.
In the most recent figures, only Hull had a higher percentage of people on Jobseekers' Allowance.
Its dependence on the public sector has led it to being hit by government spending cuts.
There have been longstanding efforts to regenerate Middlehaven at the heart of the town, but they have been moving too slowly to offer much hope of immediate transformation.
And if you want to talk high speed rail, you need to remember this is a town that doesn't even have a direct rail link to London.
But the Chancellor did talk about more than railways in his speech.
He's hoping northern communities will be prepared to adopt Boris Johnson-style directly elected, metropolitan mayors.
In fact, he's prepared to offer any that adopt the model with more powers and resources.
Elected mayors
Middlesbrough already has a directly elected mayor, but George Osborne's mayors would cover larger areas.
So to get the power and money, there'd have to be a mayor covering the whole of the Tees Valley area - taking in Darlington, Redcar, Stockton and Hartlepool as well as Middlesbrough.
One supporter of that idea is businessman Andy Preston. He led a campaign to prevent the abolition of Middlesbrough's mayor and is hoping to get elected to the post next year.
But he thinks a Teesside mayor could achieve much more.
He said: "To have two, three or four local authority leaders taking decisions in an area is not the best way of doing things.
"It would work much better if there was a Teesside-wide body with one person at the top who was accountable and responsible for taking big decisions, driving investment at a level that affects everybody and not just a tiny slice of the conurbation."
Wider public enthusiasm for mayors though has been mixed in the North East.
Although Middlesbrough's voters decided to keep their mayor, people in Hartlepool decided to abolish the post.
Voters in Darlington and Newcastle have also rejected the idea in recent times.
Scientific expertise
One area though where there'll be no dispute is over the potential for scientific innovation to boost the northern economy.
Just outside Middlesbrough is the Centre for Process Innovation which looks to turn local scientific expertise into potential businesses.
Its work was name checked by the Chancellor, and it has had significant government support.
Kris Wadrop is one entrepreneur that's benefited from that backing.
The chemical engineer is working on plans to extract valuable chemicals and biofuels from household rubbish.
He's planning to take on his first five employees later this year, but it could employ hundreds if the scheme takes off.
He believes more support for innovation could be perfect for Teesside.
He said: "We have everything in Teesside from first class academics at our local universities through to full-scale industrial capability with the sites we have here.
"We have more than 100 years of history of steelmaking and chemical manufacture, so we are waiting for these opportunities and these jobs."
High speed rail
But the area's businesses do have concerns about the lack of infrastructure investment in the area.
Stephen Catchpole is the chief executive of the Tees Valley Local Enterprise Partnership.
He was encouraged by the Chancellor's desire to connect up northern cities - but disappointed that it only seemed to focus on Leeds and Manchester.
He said: "We would like to see improvements on the East Coast line, a direct link between Middlesbrough and London, and more trains calling at Darlington, and electrification of the line to Middlesbrough and Teesport.
"So there are some immediate gains we would like, but we would also lobby to make sure the North East can be part of any high speed rail schemes."
One of the Chancellor's critics believes his speech was more about keeping his party in power than about creating a powerhouse.
Middlesbrough South and East Cleveland's Labour MP Tom Blenkinsop believes voters won't be hoodwinked.
He said: "The motivation behind the Chancellor's speech is that he's in dire need of a political message in the north. He knows fine well that the Tory brand in the north is toxic and he has to be shown to do something for areas where he has marginal MPs.
"But I'm afraid the Chancellor is far too late and the MPs in those areas are on a hiding to nothing."
There is though at least one benefit of George Osborne's speech.
It has opened up a debate about what's needed to make sure the north and not just London can be the driver of the UK's economic future.