Will London Bridge work mean misery for South East rail commuters?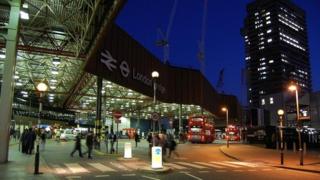 London Bridge is one of the busiest railway stations in the capital with 120,000 passengers passing through it every morning - many having started their journey from towns and villages across Kent and Sussex.
Most of them now face months of disruption as the majority of trains won't be stopping at London Bridge station during the building works taking place there over the next three years.
The Conservative MP for Tunbridge Wells Greg Clark and his colleague, the Hastings MP Amber Rudd, say their constituents will be badly affected by the works.
They've written to the Transport Minister Stephen Hammond seeking assurances that, apart from the disruption to their journeys, commuters won't be penalised financially during the upgrade.
Mr Clark said: "People who work near London Bridge will have to go on to Cannon Street or Charing Cross and Waterloo and have to travel back - in order to do that they'll have to buy a bus ticket or Tube ticket.
"That seems very unfair when they can't get to the station they commute to - it seems to add insult to injury. "
It's a huge engineering feat - which will see the largest re-build of a station undertaken by Network Rail costing £1.6bn.
Commuters from across the South East will be affected from January 2015 until the following August when Charing Cross services won't be able to stop at London Bridge and from August 2016 for two years when Cannon Street services won't stop there.
Dave Ward from Network Rail says it's not possible to shut the station but says it's been a "big, big job for three or four years- it's one you only come across once in a lifetime".
Commuters fear both the disrupted journeys and potential extra costs. Some even worry - due to the duration of the disruption - it will have an impact on house prices in Kent and Sussex.
Southeastern says it is working with other operators to ensure that customers are not out of pocket while Network Rail is doing the work but say the final decision is for the Department for Transport.
It plans to produce a timetable - taking into account the London Bridge works - next week.