Kent parish councils fight Gatwick Airport runway plan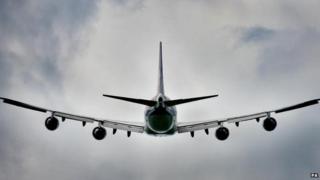 Campaigners fighting a second runway at Gatwick are writing to the Airports Commission to object to the level of noise an expansion could cause.
Four Kent parish councils claim an additional runway would also damage local tourism and the environment.
Mitzi Quirk, from Chiddingstone Parish Council, said the village currently saw 10 planes per 20 minutes but expansion would take that to 45 an hour.
Gatwick Airport said building a new runway was in the local interest.
'Intolerable noise'
Ms Quirk said: "We are concerned not just with the future, but with the current situation. So we've grouped together to make a more powerful body with other parish councils who are going to be affected and who are affected currently.
"Currently we must have something like 10 planes in 20 minutes. I think what their projection is 45 planes an hour.
"And if they currently come in at the height they do, it will be really very difficult to live with and it will affect a lot of people. And I don't think anybody's sanity could stand that, quite frankly."
David Barren, who lives in Hever, said the village used to be tranquil but now the noise had become "totally intolerable".
'Create jobs'
Richard Streatfield, chairman of the High Weald Parish Councils Aviation Action Group, which covers Chiddingstone, Hever, Leigh and Penshurst councils, said he had seen Gatwick expand "vigorously" from what was a local airport and under the plans it would more than double in size.
He claimed tourism businesses in the High Weald Area of Outstanding Natural Beauty brought about 186,000 jobs to the industry and created £1.6bn over a year, which would be threatened by Gatwick expansion because of the impact on the environment and because tourists would not want to visit.
But Gatwick argue a second runway would create thousands of jobs, offer new opportunities to businesses and promote economic growth and prosperity across the region.
"Gatwick is continuously working to reduce the noise levels at the airport, including designing flight paths that avoid the majority of populated areas and providing the most innovative noise insulation scheme in Europe," it said in a statement.
"Should Gatwick build a second runway, we will also pay annual compensation equivalent to Band A Council Tax (currently £1,000) to all households most affected."