Shelter warns of England affordable-home 'drought'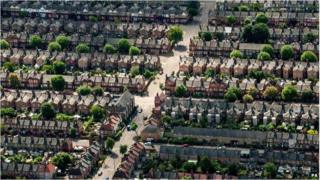 Only 18% of homes in England are affordable for the average family looking to get on the property ladder, a housing charity survey has revealed.
Shelter found that 0.3% of houses in London and 4.2% in the South East could be bought by first-time buyers.
This compares to 29% in the North West and 37.3% in the North East.
Campbell Robb, chief executive of Shelter, said the country was facing a housing "drought".
"As the pool of affordable properties shrinks ever smaller, thousands of people are being forced to wave goodbye to their dreams of a home of their own - even those who've been able to put aside a large deposit," he said.
'Limited financial resources'
The charity's calculations took into account the average deposit for first-time buyers, regional variations of income and a family having at least one child.
They then looked at house prices for one day, in April.
Housing minister Kris Hopkins said the government had prioritised "limited financial resources" for investment in housing.
"Thanks to our efforts the number of first-time buyers is at its highest level in five years and over 131,000 households have been able to buy or reserve a property through Government-backed home ownership schemes since 2010," he said.
Office for National Statistics (ONS) figures released last week show that across the UK, house prices have leapt by 9.9% annually to reach a new average high of £260,000.
Region
Number of affordable houses
Percentage of affordable houses
London
86
0.3%
South East
1,712
4.2%
South West
2,437
6.0%
East
2,174
7.1%
East Midlands
6,070
19.5%
West Midlands
7,465
22.6%
North West
16,134
29.8%
Yorkshire and Humber
12,440
31.3%
North East
9,748
37.3%