The art of the apology - why prompt is not always profound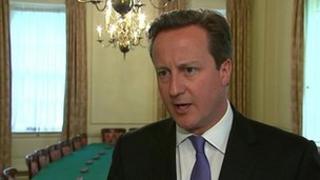 Maybe by making a swift apology the Prime Minister thinks he can take the heat out of the Andy Coulson affair.
The jury's verdicts were not complete, so maybe he had to skip some detail. But he could have waited. After all, three years has passed since he said this in the House of Commons.
"I have an old-fashioned view about innocent until proven guilty. But if it turns out I have been lied to, that would be the moment for a profound apology. In that event, I can tell you I will not fall short."
David Cameron appeared on camera in time for the lunchtime news, and repeated a form of words around the idea that he was making the fullest possible apology for a "bad" decision.
"I am extremely sorry that I employed him. It was a wrong decision and I am very clear about that."
He said he was making an unreserved apology, but then pointed out that there had been no complaints about his work at Downing Street.
He called the apology profound, but he looked more irritated than regretful.
Assessing the authenticity of what someone says is a natural human ability. We all watch someone's eyes, listen to the way they speak rather than the literal meaning, especially when it is an apology being offered.
The viewing public are more likely to judge by that tone, than anything else.
Recently in the South we have had a range of political apologies to compare it with - Chris Huhne, Maria Miller, Mike Hancock.
Huhne and Hancock stretched the public's credibility in the first place by insisting on innocence, only to admit guilt at the final moment.
Hancock apologised on paper, in an agreed legal statement that certainly felt profound, but perhaps opened the door to further criticism.
Miller was judged too perfunctory when she spoke in the House of Commons, and was criticised for a lack of feeling.
Over the next few days Cameron will no doubt be offered more chances to say he is sorry, to explain in more detail.
But it will be difficult to make that apology in a genuinely convincing way.