Tour de France Grand Depart diary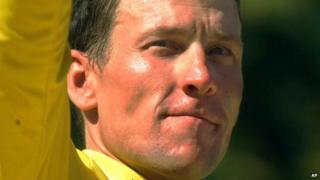 With the world's biggest bike race starting in Leeds on 5 July, BBC Yorkshire's Tour de France correspondent Matt Slater rounds up the best of the gossip, opinion and stories, on and off the bike, and also tries to explain some of cycling's unique lingo.
TOP STORIES
Most of us have heard of the old philosophical question about trees not falling over in the forest unless somebody is there to experience them doing so - it is a concept modern sports fans can easily get their heads around. Did I really see that fight/game/race if I was unable to send social media messages about it? This is a quandary at many cycling events, as they often take place in remote areas with little or no 3G reception or wi-fi hotspots...not on our watch, though, oh no. There will be two mobile wi-fi hubs mounted on tractors in the deepest reaches of the Dales on stage one, and then in the run-in to Sheffield on stage two. First spotted at music festivals such as Glastonbury, these rural routers should enable a few more of to say that you definitely saw Mark Cavendish and co ride up Buttertubs Pass.
Full story: Yorkshire Post
The stereotype of the hardy northerner versus the soft southerner does not apply to street furniture, it seems. Following on from last week's flap about Grand Depart bunting bending the lampposts in North Yorkshire's Masham, council officials in Cambridge have said their lampposts are sturdy enough to take the extra weight of the knitted miniature cycling jerseys.
Full story: BBC News
As discussed on Monday's Look North, cycling has had a serious drugs problem for many years and that should not be ignored. Looking the other way is what got the sport into such a mess in the first place. With that in mind, it is good to hear that the BBC's excellent "Storyville" documentary strand has bought the highly-rated "Stop At Nothing: The Lance Armstrong Story". It was made by the Australian broadcaster ABC, and earned great reviews at the recent Sheffield Doc/Fest and London's East End Film Festival. It will be shown on BBC4 on Sunday, 6 July
Full story: Real Screen
CYCLING ROUND-UP
The first three team line-ups have been confirmed for the Tour, with French outfit FDJ and Belgian-based duo Omega Pharma-QuickStep and Lotto-Belisol announcing the nine riders they are sending to the start in Leeds.
To be entirely accurate, FDJ actually named 10 riders, with the final slot going to either Cedric Pineau or Francis Mourey. The big news for them, however, is that they are not bringing Nacer Bouhanni, the man who sprinted to three wins and victory in the points classification at the Giro d'Italia last month. FDJ's sprinter at the Tour will be Arnaud Demare, while Thibaut Pinot is their man in the yellow jersey contest.
The OPQS selection is a lot more straightforward: it is Mark Cavendish plus seven great riders who will try to set him up for sprint victories and go for the occasional stage win themselves, with the young Polish rider Michal Kwiakowski also getting a bit of help for his general classification bid. As the world's top-ranked team, OPQS were always going to have to leave a few decent riders at home, but this selection was pretty well signposted and probably gives Cavendish the best support he has had at a Tour since the mighty HTC team was disbanded in 2011.
There is not much mystery to Lotto-Belisol's choices either. Germany's Andre Greipel is the sprinter, with Belgian rider Jurgen Van Den Broeck being their general classification hope. The latter finished fourth in the 2010 and 2012 Tours, but his form has been patchy since. Greipel is in good nick, though, and remains one of Cavendish's main rivals for stage wins.
Elsewhere, it has been confirmed that Team Sky's Sergio Henao will miss the rest of the season after having surgery on his broken knee. The Colombian was hit by a car as he took a look at the time-trial course in last week's Tour of Switzerland. This is obviously a blow for the rider and his team, but also highlights why race organisers need to be so cautious about road closures.
TWEET OF THE DAY
"In central York, where every window has a bike, a wheel or a yellow jersey in it. Looks like a city entirely composed of bike shops. Nice."
British time-trial champion and cycling writer Michael Hutchinson - aka @Doctor_Hutch - on York's Grand Depart-themed makeover.
TODAY'S TOUR TRIVIA
As there are no restrictions on former winners competing again, it is fairly common for previous champions to be in a Tour field. But there have been six editions of the race without a former winner. Three are fairly obvious to guess: the first race in 1903, the first race after the break for WWII in 1947 and the first race after Lance Armstrong's seven-year reign in 2006.
Some of you might also be able to guess that there were no former winners in the peloton in 1999, when Armstrong won for the first time, as it followed the scandal-hit 1998 Tour. The other two are much harder to work out, though. The 1927 race was remarkable only for an experiment with staggered starts and the 1956 edition was missing the injured Louison Bobet, who had won the three previous Tours. Even without the odd-man-out Sir Bradley Wiggins and possibly the out-of-form Andy Schleck, there should be at least a couple of former winners in Leeds.
THE COUNTDOWN - 11 DAYS TO GO
The 1914 race has a place in the record books as it was contested by no fewer than 11 former and future Tour champions. Seven riders had won it before, and four more would go on to win it when the race resumed after WWI.
There have also been 11 riders who have won the Tour at the first attempt, including the legendary trio of Jacques Anquetil, Eddy Merckx and Bernard Hinault.