Cat hitches ride in postal van from Southampton to Berkshire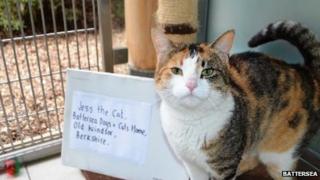 An animal charity is hoping to find the owners of a cat which went on a 67-mile (107km) journey from Southampton to Berkshire in the back of a post van.
The tortoiseshell, renamed Jess after the cat in the Postman Pat children's TV series, is being cared for at the Battersea Old Windsor cattery.
She is believed to have got into the van in Southampton and was later found when it reached Langley in Berkshire.
Battersea said it showed the need to microchip pets.
Tamara Willis, Battersea Old Windsor's cat rehomer, said: "Jess probably came from a loving home, but sadly her curiosity must've got the better of her before she got into the van.
"Her long journey shows the importance of microchipping your pet as you never know how far they can travel from home."