Saleem Tahir jailed for kidnapping children in Stoke-on-Trent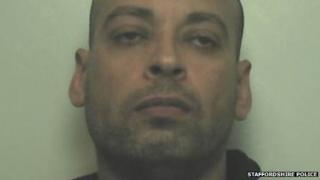 A man who kidnapped two young children from a Stoke-on-Trent hotel has been jailed for three years.
Saleem Tahir took the pair from a room at the Quality Inn Hotel in Hanley in October. They were later found unharmed at a guesthouse in Derby.
Tahir, 41, of Kelso Gardens in Nottingham, had pleaded guilty to two counts of kidnap and three counts of breaching a non-molestation order.
Det Insp Glyn Pattinson welcomed the sentence at Wolverhampton Crown Court.
"Thankfully kidnaps in Staffordshire are extremely rare but if and when they do happen we respond swiftly and appropriately," he said.
"The absolute priority in such a case is the victim/s and their safety, and to reunite them with their loved ones as quickly as possible.
"For those who commit such a crime they face a prison sentence, as today's hearing has proven."