Manchester and Leeds: Could they rival London?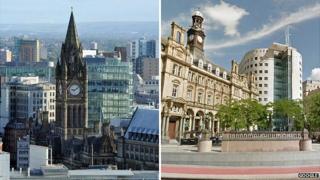 The chancellor has set out his vision for an economic "powerhouse" in the north of England but could Manchester, Leeds and other northern cities link up to rival London?
George Osborne said improved road and rail connections would allow cities across northern England to push on and be "greater than the sum of their parts".
He likened it to the stars of all the Premier League football teams "wiping the floor with any competition" if they came together to form a single squad.
In 2004, John Prescott mooted the idea of a "super city" in the North, but anything resembling this is still yet to happen.
So could better links help Manchester and Leeds - traditionally cross-Pennines rivals - work together to create a dream team?
The view from Leeds
There is a need for "clear timescales and funding commitments" for a high speed rail line linking Leeds and Manchester, the leader of Leeds City Council has said.
Labour's Keith Wakefield said Mr Osborne had to show his suggestion was more than "pre-general election rhetoric" but said he agreed improving journey times between the two cities' would enable them to "rival London" economically.
The city he leads has seen major changes in the past thirty years with significant regeneration and a major increase in financial and professional services.
It is one of the largest business centres in the UK outside London and more than 100,000 people are now employed in banking, finance and insurance.
To compete on a national scale, Leeds and the wider Yorkshire region needs investment in transport infrastructure, Mr Wakefield said.
"With 89% of transport spending currently allocated to London and the South-East, tackling the huge divide in public transport investment is long-overdue."
Chris Hearld, a senior partner at KPMG in Leeds, tweeted: "Good to see George Osborne recognising the importance of improved trans-Pennine rail links. Vital to rebalancing UK economy."
Others would prefer to see money spent on improving the existing rail and road networks.
Andrew Denniff, chief executive at Barnsley & Rotherham Chamber of Commerce in South Yorkshire, said: "The prospect of a high-speed east-west rail link across the North is a good start if it materialises, but we would like to see more thought given towards greater connectivity to all regions in the North, not just Manchester and Leeds."
The view from Manchester
There are 1.14 million people working in Greater Manchester in 93,000 businesses.
According to the Manchester-based think tank New Economy, there are 7 million people living within an hour's drive of the city centre - more than any other UK conurbation outside London can point to.
Chris Fletcher, from Greater Manchester Chamber of Commerce, said better infrastructure was necessary for its economy to grow faster.
He said: "We have got some great growth going on at the present moment in Greater Manchester, but so much more could be done if we work together with other cities.
"To do that, we do need to link these [northern] cities together in a much better way than they are at present."
Alexandra Jones, from the think tank Centre for Cities, said cities needed to be "well-connected to access skills from a wide area".
She said: "It is absolutely critical that we ensure that the first phase of the high-speed rail link is between Manchester and Leeds.
"While improved east-west links across the country are clearly vital for the country's long-term future, this painfully slow 44-mile journey is holding back the economic development of the North."
Prof Alan Harding, Professor of Public Policy at the University of Liverpool, said: "These two cities stand at the core of a broader area in northern England, extending at least as far as Liverpool and Sheffield, that has the largest concentration of people and economic activity outside the South East.
"To the extent that the UK economy can develop a complementary growth hub, it is here that the greatest potential lies."
He added: "International experience suggests that connecting key urban centres together more effectively, by cutting travelling times, will improve productivity and help the labour market of the whole interconnected area function more effectively."