Watersafe UK Round Britain charity crew return to Poole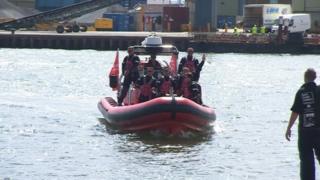 A voluntary water rescue team has completed a round Britain trip.
The 12-strong team from Watersafe UK Search and Rescue Team (WUKSART) completed 1,999 miles within nine days, nine hours and nine minutes.
The challenge was organised to raise at least £50,000 for WUKSART and the RNLI and to raise awareness of Derbyshire-based WUKSART.
The group set off from Poole, Dorset, in a rigid inflatable boat on 12 June and arrived back on Saturday.
On each leg of the trip there was a crew of four in the boat - a driver, navigator and two crew members to maintain the running of the boat and keep a look out.
A support crew followed the team and met up with the boat at the end of each day.
The team had originally attempted the challenge in September last year but had to abort after nine hours following an "ingress of water".
WUKSART is a voluntary search and rescue organisation operating within Derbyshire and the East Midlands region.