Head teacher recruitment 'increasingly difficult' warning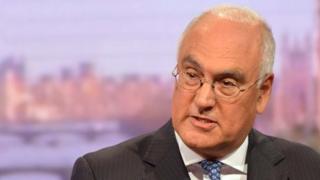 Rising pressure on senior staff could make retaining and recruiting head teachers increasingly difficult, a teaching body has warned.
A survey of heads by Schools North East found, of those who responded, 67% were considering leaving the profession before retirement age.
Workload, political interference and Ofsted were cited as reasons.
The government denied any suggestion of a recruitment crisis and said job vacancies for heads were "very low".
"Since 2010 the head teacher vacancy rate has remained below 0.2% and latest figures show just 30 head teacher vacancies across the whole country," a Department for Education spokesman said.
Schools North East director Beccy Earnshaw said applications for head teacher positions had reduced.
"We are hearing from governors that they are not getting the applications through," she said. "People aren't up for that challenge because of that instability that we have in the system currently.
"We need a period of stability so we can grow those leaders."
The online questionnaire was sent to around 800 head teachers in the region, of which 100 replied.
Nearly three-quarters of respondents said it was becoming harder to recruit deputy and assistant head teachers.
Head teacher of Woodham Burn Primary School in Newton Aycliffe, Riannon Rowe, said extra pressure from recent education reforms could discourage teachers from seeking promotion.
"There's been a very fast rate of change within education," she said.
"The head teacher is ultimately responsible and sometimes we feel a bit like football managers, I think, because, if something goes wrong, you are going to be the head that rolls."
Sunday Politics North East & Cumbria has a special report on head teacher recruitment on BBC One at 11:00 BST on Sunday.