Nick Clegg says Mike Hancock MP will be expelled from party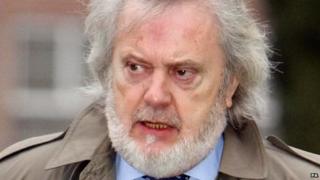 Liberal Democrat leader Nick Clegg has said MP Mike Hancock will be expelled from the party.
On Wednesday, the Portsmouth South MP made a public apology over an "inappropriate and unprofessional friendship" with a female constituent.
Mr Clegg said Mr Hancock had "no future" in the party.
He said he did not see letters the woman sent to his office in 2011 but suspended the MP when he was told of the allegations in 2013.
When asked by the BBC if Mr Hancock would be expelled for the party, Mr Clegg said: "Absolutely."
He added: "I think it's very, very, very clear to me that he has no future as a member of the Liberal Democrats either, because he's apologised for causing immense distress to a vulnerable and innocent constituent of his."
Speaking on LBC earlier, Mr Clegg described Mr Hancock's behaviour as "totally and utterly out of order".
Mr Clegg said he was "frustrated" a letter the constituent had sent to his office had "simply not reached him".
"I can only react to things that are put before me and when, in early 2013, specific allegations were brought to my attention, because the court proceedings were then under way, I acted very quickly, got it looked into and within a matter of weeks Mike Hancock was no longer an MP for the Liberal Democrats and, as you know, subsequently, was suspended," he said.
Civil action against Mr Hancock alleging he sexually assaulted a female constituent was dropped earlier this month.
A statement released on Wednesday said both parties had agreed a confidential settlement.
Mr Hancock, who is currently an in-patient at the Priory Hospital, released the statement as part of the agreement.
In the 400-word apology, he said: "In October 2009, you first came to me as a constituent to seek my assistance as your MP and councillor.
"Subsequently, and over several months, I came to your home on several occasions, sometimes unannounced, and conducted a friendship with you that was inappropriate and unprofessional.
"I made you feel deeply uncomfortable and discriminated against and I crossed the line."
'Inappropriate and unprofessional'
Following the statement, the chairman of Portsmouth Liberal Democrats Simon Dodd, said Mr Hancock would now be subject to an internal disciplinary hearing.
"Mike Hancock has admitted behaving in an unprofessional way that caused harm and distress to a constituent and we are very disappointed that his apology was not made at a much earlier stage," he said.
The MP for Portsmouth South had denied claims of sexual harassment, but was suspended from the Lib Dems after being found guilty of breaching standards codes.
Mr Hancock, who has been an MP in the city since 1984, was arrested in 2010 after a complaint was made about his behaviour towards a vulnerable constituent who had a history of mental health problems.
Hampshire Constabulary decided not to press charges following an investigation.
Mr Hancock resigned from the cabinet of Portsmouth City Council in February and lost his Fratton seat on the council in the elections in May.