Miliband pledges full inquiry on Orgreave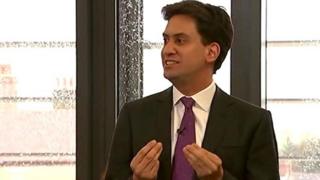 Labour leader Ed Miliband has joined the chorus of voices wondering just how much evidence it takes before the official police watchdog bares its teeth.
It is 18 months since a BBC Yorkshire documentary broadcast interviews with police officers who admitted they were ordered to change their statements on what happened at the infamous "Battle of Orgreave" during the Miners' Strike in 1984.
In an unprecedented step the South Yorkshire police force immediately referred itself to the Independent Police Complaints Commission (IPCC).
Yet investigators at the IPCC are still pondering whether there is enough evidence to even start a full investigation.
In a thinly-veiled attack on this frustratingly slow speed of action, Mr Miliband has pledged that he wants "a proper inquiry" and is calling a parliamentary debate to demand one.
Violent confrontation
The confrontation occurred at the height of the year-long strike when an estimated 10,000 pickets tried to shut down what was then a giant coking plant between Rotherham and Sheffield.
Five thousand police officers drawn from forces all over the country were deployed to stop them.
Dozens of people were injured with 93 arrested and charged with public order offences ranging from assault to riot.
Almost immediately it was known that police evidence submitted to the courts was unreliable.
After 16 weeks the trials collapsed and many of the defendants later sued for false arrest with around half a million pounds paid out in compensation.
'Get a move on'
Yet there has never been the full independent investigation which local campaign groups have been calling for ever since.
In an exclusive interview with BBC Look North, Mr Miliband, an MP just down the road in Doncaster, did not rule out a public or judicial inquiry but said he first wanted to hear what action the IPCC proposed to take.
But he warned the watchdog that it needed to "get a move on".
The old coke plant at Orgreave has long gone with the site now cleared but memories and the demand for answers are not going to be as easily bulldozed away.