Bobby Moncur reveals oesophageal cancer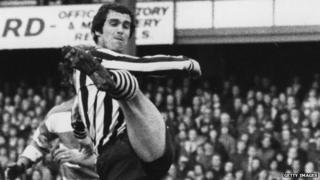 Former Newcastle and Scotland football captain Bobby Moncur has revealed he is recovering from oesophageal cancer.
The footballer was diagnosed in January while being monitored after surgery for bowel cancer in 2007.
North of England oesophageal cancer rates are among the world's highest.
Mr Moncur, who also played for Sunderland AFC and Carlisle United as well as managing the Cumbrians, Hartlepool United, Hearts and Plymouth, said he considered himself "lucky".
Speaking exclusively to BBC health reporter Sharon Barbour, he said surgeons who had treated him at the Queen Elizabeth Hospital in Gateshead had noticed changes to the lining of his oesophagus, or food pipe.
The condition, called Barrett's oesophagus, can lead to cancer.
"I'm lucky," Mr Moncur said. "I know I've had cancer twice but I'm lucky because I've been treated by the right people and it was found early enough."
In January Prof Mike Griffin, from the Northern Oesophago-Gastric Unit at Newcastle's Royal Victoria Infirmary, operated on him for eight hours to remove part of his oesophagus and a large cancerous area.
"Bobby in some respects was fortunate that he was on the surveillance programme so that we picked this up just as it developed into a cancer," he said.
Oesophageal cancer symptoms
Difficulties or pain when swallowing
Unexplained weight loss
Throat pain
Persistent indigestion
Persistent cough or hoarseness
Vomiting or coughing blood
The region's rate of oesophageal cancer is partly explained by its high level of obesity, Prof Griffin said.
"If we have a high incidence of obesity we will have a high incidence of reflux; if we have a high incidence of reflux that causes a change in the lining of the oesophagus called Barrett's oesophagus which is pre-malignant.
"And it is that cascade of events that gives rise to cancer."