Greater Anglia apologises over London to Norwich train disruption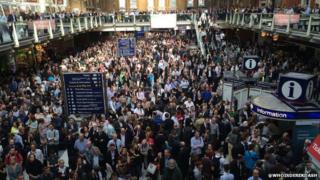 A rail operator has apologised to customers after overhead cable problems in Essex caused severe disruption to commuters in three counties.
Services between London Liverpool Street and Norwich were disrupted in both directions after a train stopped, blocking the line near Chelmsford on Tuesday evening.
Some passengers reported delays of up to five hours.
Abellio Greater Anglia apologised for the "delays and cancellations".
These were caused by "an overhead power line problem between Chelmsford and Hatfield Peverel which resulted in a train failing, blocking one of the two lines", managing director Jamie Burles said.
Passenger Andy Newman, from Norwich, tweeted: "No movement, no air-con, no information, no staff. Time to make it no franchise."
"Three-and-a half hours after leaving Liverpool Street we arrive in Colchester," he added.
'Police called'
Wendy Pilmer, who planned to take the 17:30 BST train to Ipswich from Liverpool Street eventually arrived at 23:30.
"My 70-minute journey took six hours," she said.
She said there was a "generic apology" on the public address system but "no specific information", and that police were called to Liverpool Street.
"Eventually when passengers got really irate and the police were called, a manager appeared and he was trying to shout across the concourse, so you can imagine how successful that was.
"Eventually the police went off and found him a megaphone, poor lad.
"I think what frustrated people is he was saying the train breakdown was 'catastrophic'. If the train had been moved it would have brought down all the overhead lines," Ms Pilmer said.
"If that was the case at four o'clock, why at nine o'clock were we all standing there? That's what got people outraged, I think."
An apology was put on Abellio Greater Anglia's website and one was posted at Liverpool Street station.
Mr Burles said: "Whilst we aimed to provide alternative services wherever possible, the reduced line capacity did unfortunately result in lengthy delays for many customers.
"We will be holding a full investigation into the incident with Network Rail as part of our follow-up to help avoid any repeat of this problem and the widespread disruption caused."
Passengers unable to use their tickets on the day would be able to use them on Wednesday, a statement on the company's website confirmed.