Norfolk and Suffolk mental health patients 200-mile bed trek concern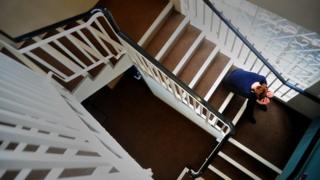 Health Secretary Jeremy Hunt said it was "unacceptable" some mental health patients were having to travel more than 200 miles (321km) for a bed.
Unison urged the government to develop a "rescue package" for mental health services in Norfolk and Suffolk.
It said 22 patients were left facing the journey last week. Norfolk and Suffolk NHS Foundation Trust must make cuts of £40m by 2018.
The trust said it was working to address the beds shortage.
Unison, which represents the trust's workers, said sectioned patients had been sent as far away as Darlington, Harrogate, Bristol and Brighton for adult inpatient beds.
Mr Hunt said it was unacceptable that people with acute mental health problems were "being sent far away", and it was being looked into.
Emma Corlett, spokeswoman for Unison at the trust, said a week and a half ago there were 22 cases of people being found beds outside Norfolk and Suffolk.
This often left mental health patients "exceptionally isolated at a time when they need a support system around them (such as family members)", she added.
Ms Corlett said she was pleased Mr Hunt recognised the problems but said now was the time for action.
"We want greater resources and a rescue package for the trust to be put in place. The problems are getting worse," she said.
Michael Scott, chief executive at Norfolk and Suffolk NHS Foundation Trust, said: "We have made it very clear that we do not want to be sending patients outside of our trust.
"It is distressing for them and their family and it does not make financial sense.
"We are working very hard with commissioners in Norfolk so that we have the right number of beds to meet the demand that is out there.
"We have a number of patients ready to be discharged, but do not have anywhere to go. We are absolutely committed to this and it is one of the main operational challenges."