Police criticised over 'failure' to investigate Manchester killer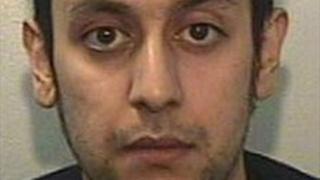 A policeman who failed to properly investigate an attack by a man who later committed murder has been criticised by a police watchdog.
The unnamed officer did report the attack in Nottingham promptly, the Independent Police Complaints Commission said.
Imran Hussain, of Berkshire, was jailed for life for killing Kieran Crump Raiswell, 18, in Manchester in 2013.
Hussain had assaulted a man in Nottingham 12 days earlier.
The officer failed to properly handle and record evidence and keep an adequate record of the Nottingham attack, the IPCC report said.
In that incident, the victim was walking in the Derby Road area when he was approached by Hussain who punched him to the side of the head in an unprovoked attack.
Hussain ran to a nearby vehicle and drove away from the scene, and the vehicle registration number was reported to police.
Inadequate records
The same vehicle was used to drive away from the murder scene in Manchester.
Hussain was not traced or questioned after the Nottingham attack.
Hussain, 27, of Tilehurst Lane, Bracknell, Berkshire, was found guilty of murder despite denying the charge on the grounds of diminished responsibility.
The jury at the trial was told by the prosecution that Hussain "simply wanted to see what it's like to kill someone".
IPCC Commissioner Sarah Green said: "We will sadly never know whether a more prompt investigation might have deterred Imran Hussain from going on to commit the grave crime of murder.
"But it is clear that the officer did not investigate the initial assault quickly and thoroughly enough, despite being provided with clear lines of enquiry. "
The officer was found guilty of misconduct and will receive extra support and training.
The watchdog has made a series of recommendations including improvement of its violent crime handover policy.
Nottinghamshire Police said it has accepted the IPCC recommendations.