Yorkshire countryside gains £3m lottery grant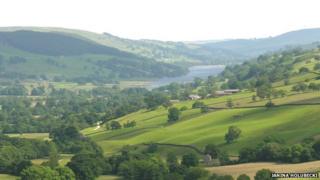 Two contrasting Yorkshire landscapes have been awarded £3m for conservation by the Heritage Lottery Fund (HLF).
The money is to be spent on schemes in the Dearne Valley, South Yorkshire, and Upper Nidderdale, North Yorkshire.
More than 45 projects across the two areas are to be helped to protect the natural, historic and industrial environment.
Fiona Spiers, of the HLF, said: "Yorkshire's amazing countryside is under ever-increasing pressure."
The Dearne Valley, between Barnsley, Rotherham and Doncaster, has been awarded a grant of £1.8m to the Dearne Valley Landscape Partnership.
Richard King, project officer, said: "A lot of the great countryside people walk around in the Dearne Valley is there because of coal mining."
Mr King said the area was one of "great potential" although it might not be seen as "traditionally beautiful" by some people.
He said the money would support more than 30 projects over five years and some would be distributed in small-scale grants of up to £1,000.
The Maurice Dobson museum is an example of one a small attraction to be helped, he added.
It displayed the heritage of Darfield, near Barnsley, with the collection of the late Maurice Dobson that is housed in his former home.
Upper Nidderdale is dominated by the summit of Great Whernside and includes heather moorland with rocky crags.
Iain Mann, for the Upper Nidderdale Landscape Partnership Scheme, said about 15 projects would be supported over four years.
The grant would used to plant traditional hay meadows and conserve the ground-nesting habitat of lapwings and curlews, he added.
Vocational training would also be given to young people to increase traditional skills such as drystone walling.
Volunteers would also be trained to conduct an archaeological survey to to look for and record features in the landscape ranging from Bronze-age hut circles to monastic remains.