Street artist creates graffiti of Yorkshire-born artists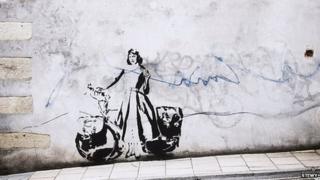 A street artist has created stencilled works of famous artists, writers and musicians along Yorkshire's Tour de France route.
Stewy, based in Bristol, had permission to create the works from building owners in West and South Yorkshire.
The five stencils all feature Yorkshire-born artists, from the Bronte sisters to musician Jarvis Cocker, on bikes in places associated with them.
The opening stages of the Tour de France begin in Leeds on 5 July.
The artist has not been commissioned by organisers of the Tour de France but said the cycle race had inspired him.
"I am really excited," he added.
"My partner is from Moor Monkton near York so even if I don't have an immediate Yorkshire link my family are from there."
Stewy chose artists not known for their cycling prowess deliberately, he said.
"They are icon-like ghosts across the street. Sylvia may have walked across that path. It links art with geography and history in one space," he said.
Each individual stencil took weeks of preparation before being sprayed onto the walls.
One of the five has not survived, the portrait of Leeds-born writer and playwright Alan Bennett.
The stencil on Eastgate in Leeds near the West Yorkshire Playhouse has since been covered over.
"Don't worry, I will be back and do another one," he said.