World Cup 2014: Animals 'predict' World Cup results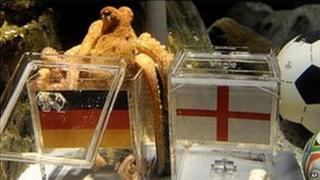 During Euro 2008 and the 2010 World Cup, Paul the Octopus shot to global fame by correctly "predicting" the winners of 11 out of 13 matches.
Now several animals around England are stepping, flying and swimming forward to give their predictions.
But could this all just be a clever marketing ploy?
Penguins Alf, Lolly and Ginny
On Wednesday the Gentoo penguins at the National Sea Life Centre in Birmingham predicted a draw for England in their opening game against Italy.
But when they were asked to repeat their efforts for the benefit of the media, they changed their mind and forecast a win for Roy Hodgson's team.
Curator James Robson said: "Our Gentoos are really enthusiastic and love playing new games so have quickly got into the spirit of choosing the winning flags."
The penguins have been examining the country's flags for each head-to-head game and choosing which they think represents the winning team by hopping on to the rock it is leant against.
When they are unable to choose a winner, they have been scrambling on to the middle ground.
Sarge and Oscar the macaws
As members of a species native to South America, macaws Sarge and Oscar correctly predicted a win for Brazil in their opening match.
However, they are less confident that England will be successful against Italy.
"I do hope they are wrong [about England]," John Nattrass, bird keeper at working farm The Gincase in Silloth, Cumbria, said.
The birds have been choosing the winners from two pots of feed marked with the different countries.
"If their predictions are right, maybe I'll start putting some money on them," Mr Nattrass said.
Miniature donkeys Alistair and Derek
Miniature donkeys Alistair and Derek are also hoping to become successors to Paul the octopus.
The pair, named after the owners of Puxton Park, in Somerset, have been choosing between food boxes containing the flags of the competing countries.
Alistair and Derek sniffed out England as a worthy winner against Italy this Saturday.
Sarah Warren, head of park, said: "We're hoping their England prediction comes true and that we could have own very own Somerset World Cup psychics on our hands."
Big Head the loggerhead turtle
It is not just English animals that have suddenly come over all Nostradamus. Host nation Brazil has been given a confidence boost from its chosen tipster - Big Head the loggerhead turtle.
Choosing to eat a fish hung from a Brazilian flag rather than a Croatian flag, the turtle correctly predicted Brazil would beat Croatia in the opening game of the World Cup.
A small crowd of onlookers at the Praia do Forte turtle sanctuary, north of Salvador, cheered in appreciation of the 25-year-old turtle's choice.
The pundit's view
Marketing expert Keith Hicks, from the University of West England, said the predictions should not be looked at as anything more than a "bit of fun".
"Most superstitions have a purpose and I think this is certainly to promote the World Cup," he said.
"I think it is a bit of fun and like most of these things they become a tradition and it all adds to the mystique and fun of the competition."
Mr Hicks said that with tourist attractions "fighting their corner for the consumers' attention" they will inevitably use the appeal of animals and big events.
"Good luck to them really, it is difficult to keep a zoo or aquarium and get interest in it and keep a science centre going, so all credit to them for exploiting people's interest in World Cups and animals," he added.
Correction 23 June 2014: This article was amended after it emerged a photograph of a parrot had been provided to the BBC rather than the result-predicting macaws.