No action against Euro candidate Paul Weston over Islam remarks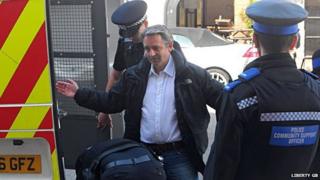 Police have said they will take no further action against a man arrested after making a speech about Islam.
Paul Weston, chairman of Liberty GB and a candidate in the recent European elections, was arrested on 26 April after quoting Winston Churchill on the steps of Winchester Guildhall.
He was arrested for failing to comply with a dispersal order and on suspicion of religious or racial harassment.
Hampshire Police has now told Mr Weston he will not be charged.
Complaints
The 50-year-old from Dorset was arrested after complaints from members of the public.
He was detained after failing to comply with a request by police to move on under the powers of a dispersal order.
Mr Weston said he was apprehended after reading from Churchill's book The River War, written in 1899 while Churchill was a British army officer in Sudan.
He had been bailed until 24 May before it was cancelled by police and he was told no further action would be taken.
A spokesman for Liberty GB claimed Mr Weston's arrest "sparked a national and international outcry".