Safari park names baby elephant after Stephen Sutton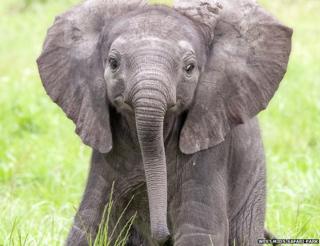 The first elephant born at West Midlands Safari Park has been named Sutton after cancer fundraiser Stephen Sutton.
The names 'Stephen' or 'Sutton' were frontrunners in a competition to name the male which was born on 5 May.
More than 4,000 suggestions for names out of 5,000 submitted via social media were for either of the two names.
Stephen, who raised £4.2m for Teenage Cancer Trust, was pictured hugging the baby's mother, called Five, in January.
The male was born after a 22-month pregnancy and weighed 15st 7lb.
Bob Lawrence, director of wildlife, said: "This is a fitting tribute to an inspirational young man."
He added the calf's father - a wild bull elephant from South Africa - was also called Steve.
Baby elephant Sutton is now 5 weeks old and weighs about 130 kg.
Stephen's meeting the elephant was part of his bucket list which included "hugging an animal bigger than me."
Stephen, from Burntwood, Staffordshire, who died on 14 May, said at the time: "She has messy table manners, but I've had worse dates."