Sussex Police under fire over missing prisoner appeal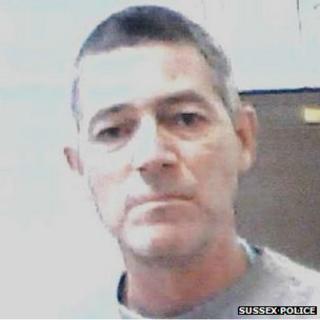 Sussex Police have come under fire after appealing for information on a convicted murderer four years after he disappeared from an open prison.
Robert Donovan, 57, was 17 years old when he stabbed a man to death in London's West End.
Donovan left HMP Ford on day release on 19 June 2010 and did not return.
Conservative backbencher Philip Davies said he found it "absolutely extraordinary" the force had taken four years to make the first appeal.
The MP for Shipley, in West Yorkshire, said: "I find it absolutely extraordinary that it has taken four years to make the public aware.
"I understand that the police were following other leads. Blimey, they were following them pretty slowly if it has taken four years to make a public appeal."
A Sussex Police spokesman said: "We have been proactively looking for Robert Donovan over the last four years and have made inquiries in a number of areas across the country."
He said Donovan was not considered to be a danger to the public.
'Astounding'
Donovan is one a series of men who have hit the headlines after absconding from open prisons.
In May, violent robber Simon Marcus Rhodes-Butler also absconded from HMP Ford.
Earlier that month, Sussex Police admitted they had no idea of the whereabouts of dangerous prisoner Kevin Brown who walked out of the same prison seven weeks previously.
Michael Wheatley, nicknamed the "Skull Cracker", absconded from HMP Standford Hill in Kent on 3 May.
Steve Gillian, the Prison Officers' Association general secretary, said: "Whilst we recognise that open prisons have an absolute value, we also believe that people have been rushed through because of the crisis in our prisons.
"If it's accurate that he absconded four years ago and it's only now that an appeal has been made, I find that astounding, to be honest."