World Cup 2014: Why England v Italy is special in Bedford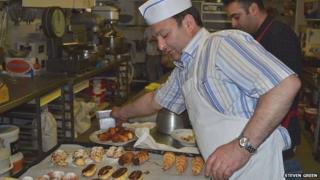 When England kick off their World Cup campaign against Italy on Saturday, one pocket of the country will be firmly rooting for the side in blue. Meet the Bedford Italians, a community with undivided loyalties - at least when it comes to football.
In the kitchen of a busy backstreet bakery, Salvatore Garganese is holding court on Italy's chances in the World Cup.
"I know my football. They won't get to the final. I can tell you that for now," he says.
Mr Garganese, owner of La Rondine, conducts his discourse while preparing a tray of cannoli and pasticcini.
He then rattles off an instruction to one of his fellow bakers before passing a steaming plate of pasta al forno into my hands.
"I hope you're hungry," he says.
Widespread poverty
It might seem like a scene that could be unfolding in any pasticceria in Mr Garganese's native Foggia on the Adriatic coast.
Instead, the setting is Bedford - the market town 50 miles north of London and the place the 61-year-old baker has called home for half a century.
He is a proud member of Bedford's longstanding Italian community. At 16,000 it constitutes a fifth of the town's population - the largest concentration of Italians in Britain.
Mr Garganese's parents came from southern Italy, which suffered widespread poverty after World War Two.
Enticed by the promise of regular pay, his father - a shoemaker by trade - came to Bedford in 1953 to join the Marston Valley Brick Company.
In the 1950s and early 1960s more than 7,500 men swapped the villages of the south of Italy for the brickworks of Bedfordshire.
The plan for many was to see out the four-year contract and return home; instead, the majority remained and brought their families over.
"My dad had planned to stay until things improved in Italy," says Mr Garganese.
"But he loved it here. He liked getting paid and he was also able to do some extra work with his shoes after hours.
"He even liked going to the pubs - he was a Guinness man. So we ended up staying."
Later, taking Mr Garganese's advice, I leave La Rondine and head for La Piazza cafe on St Paul's Square to meet Liberato "Libby" Lionetti and his son Joseph.
Not long into our exchange, Libby - whose father hailed from the same town as the Garganeses - is uncertain when predicting the much-anticipated England-Italy encounter, which starts at 23:00 BST.
"Oh, I don't know," he says. "I hate it when it happens, although I suppose we're lucky that the two countries have rarely met, apart from in 1990 and in the last European Championships.
"If I have to make a prediction, I'll go for a draw."
When the sides last met in 2012 England lost on penalties and there were clashes on Bedford's Embankment as celebrating Italy fans were targeted.
Ahead of Saturday's game, Bedford Police will be on alert to prevent any repeat.
Nonetheless, Libby - a special police constable in his spare time - argues that the two communities, on the whole, cohabit peacefully.
"Bedford is different to a lot of other towns in England," he says.
"As well as the Italians, there are so many diversities here that there's no 'them and us'.
"What we have instead is a lot of banter. When it comes down to the football, it's just a shame that some people take a game and throw it out of context."
'I've got two teams'
While Libby's loyalties will be with the Tricolore this weekend, his son Joseph - whose mother is English - will be supporting both sides.
"I'm straight down the middle," he says. "It's a good thing, especially with the World Cup, as I've got two teams to support. I can't lose.
"It's just going to be a good thing to watch."
Down at Bedford Italian Club on Woburn Road, close to the St Francesca Cabrini Italian Church - built by the first generation of migrants - attitudes are somewhat less diluted.
Owner Salvatore Bianco, whose family came from the Naples area, says: "I can't imagine anyone supporting England in here when it comes to the game.
"Nope, it'll be Italy all the way. Besides, I've made several bets with several people that we will go much further than England."
On the face of it - with its pool table, fruit machines and array of lagers behind the bar - the centre appears to be no different to any working men's club.
But look again and the traces of Mediterranean influence are unmistakeable. A small ice-cream counter is annexed to the outer gantry, while recently-drained espresso cups and plates of biscotti sit on nearby tables.
In the main room, in front of a large photo collage of fans celebrating Italy's 2006 World Cup win over France, Mr Bianco is overseeing a competitive-looking game of scopa between members of the "prima generazione" (first generation) and Italian is spoken throughout.
On the next table, a younger group of men are also playing cards, although the lingua franca is distinctly more Anglo Saxon.
'Very patriotic'
Noticing the dichotomy, I ask whether the sense of cultural identity is as strong in today's Bedford-Italian community as it was when Mr Bianco was growing up in the 1960s and 70s.
"It's changed a bit, but we are still very patriotic - especially when it comes to football," he says.
"I was born in Bedford too, but my heart is in Italy. It's the same with the younger guys.
"We haven't drummed it into them that they must support Italy. It's just the way they are - they inherit it, carry it forward and it spreads."
You get the feeling this sense of patriotism will be at its most evident and fervent come kick-off in Group D on Saturday night amid the swathes of blue tops, emblazoned with the hallowed names of De Rossi, Balotelli and Pirlo.