World Cup 2014: Some England fans 'a bit carried away'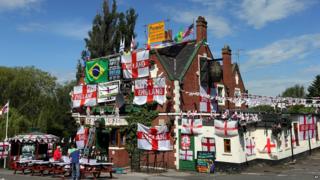 As many commentators have noted, this year's World Cup build-up has been mercifully free of hype or people getting carried away by excessive English patriotism.
Or so we thought.
Despite the national team's chances of glory being widely written off, an outbreak of excitement and optimism has hit pubs, houses - and even a windmill - across this pleasant land.
Have you seen a better example of World Cup decoration? Please email a photo to england@bbc.co.uk or use the upload form.
'A bit carried away'
Landlord Norman Scott has covered the Robin Hood pub in Jarrow, Tyne and Wear, with more than 200 flags and admits he got "a bit carried away".
There have been traffic jams twice a day as people stop to take photos.
But he now has his fingers crossed England will at least make it out of the first group - not least because otherwise the red and white flags will be coming down.
"It is England, it is the World Cup and I think you should get behind your team," he said.
"It's taken about four to five weeks to decorate. I've done all the roof with all the 32 flags of the nations. I've even painted the lampshades.
"I've got to be hopeful - I think we'll get out the group and we've got a chance in the next round. But then we bump into Spain and Brazil and that's when, for me, the World Cup starts."
He said the flags of nations knocked out of the competition would be taken down from his pub.
"I just hope the England flag is the last one standing," he added.
'Proper support'
Anthony Baddams, of Northbrook Road, Southampton,spent about three weeks putting up a display which features some 300 flags, England shirts, hats and other memorabilia.
He said he had received a "positive response" from his community, including people from Australia, Poland, the US and even his German next-door neighbour.
"A lot of people stop and take photos," he said. "They say 'it looks brilliant, keep it up'. People from all cultures have had their pictures taken and said they liked it."
Mr Baddams, 46, has put up similar displays during World Cups since the 1980s, but he said this was his largest effort yet.
"I'm a proper proud England fan and I always go OTT with the displays because I never see anyone else doing it anymore.
"You see the odd flag but it's not proper support. I'm flying the flags to show real support to our boys."
'Every nation represented'
The top of this windmill in Sheerness, Kent, has provided a prominent setting for the flags of all 32 nations taking part in the World Cup.
"We have put Brazil and England at the front because obviously that is what the World Cup final is going to be," said Alan Doucy, whose insurance firm is based in the building.
"They will be the last two standing of course. Germany is around the back, as is France."
We moved into the building in 2011 and in 2012 we put up Union Jacks for the jubilee and we did the world flags for the Olympics.
"So we decided for the World Cup every nation should be represented. We thought it would be cool and something a bit different."
John Jupp, from Blyton, Lincolnshire, has covered the whole of the front of his house with a flag that measures 25ft x 55ft (7.6m x 16.7m) following a Facebook campaign by his son.
Mr Jupp, who previously unveiled the specially-made flag in 2006 and 2010, agreed to hang it once more if the campaign received 1,000 likes.
The 'Raise the flag for England' page currently has over 1,700 likes.
"I'd like to see more people involved," Mr Jupp said.
"I'd like to see more flags up and especially on the cars, but it's just not happened this year but maybe it will, maybe it will."
'Plastered the house'
Paul Longley, 49, describes himself as "very passionate about football".
But the tradition of decorating his house in Manor Farm, Bristol, actually started during the rugby world cup.
"I plastered the house with flags and that and it has just carried on every year, with the rugby, cricket, the Olympics, the Euros... all the big tournaments," he said.
"I started in January, which I'm a bit embarrassed about, but we've just been putting them up and up and up, every weekend, or every couple of weekends, not loads at a time, but building it up, making it colourful and so on."
For Mr Longley, the World Cup is a family affair, with his wife and young grandsons all keen football fans.
"The wife enjoys it, loves it as well, she is a football fan. We watch it all the time, so she doesn't mind [the flags]," he said.
"All our neighbours love it, people stop and take pictures, we're just really excited. It's only a couple of days now until it kicks off and we're really looking forward to it.
Mr Longley's love of the World Cup has even spread to his wheelie bin, which he has covered with spare football stickers.
'Can't see out'
Kay Skutela's home in Whittlesey, Cambridgeshire, is covered with St George flags and - although at the moment they do not quite cover her windows - she said she "wouldn't mind at all if I couldn't see out".
Her husband Paul first decorated the house for the 2006 World Cup and at each subsequent competition he has added more flags.
"Paul does it every four years to support England," Mrs Skutela said.
"They are on the car and the van as well for when he is doing deliveries."
Mrs Skutela said they planned to leave the flags on their house, even if England are knocked out of the competition.