Barrow and Lancaster hospital trust boss to stand down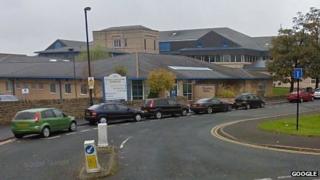 The chair of a troubled NHS trust running four hospitals in Lancashire and Cumbria is stepping down.
John Cowdall is the second major figure from the University Hospitals of Morecambe Bay NHS Foundation Trust (UHMBT) to resign this month.
George Nasmyth's resignation as medical director was announced on Friday.
Reports by the Care Quality Commission (CQC) expressed "serious" concerns over maternity and emergency care at the trust in the past.
MP Tim Farron said he was concerned the latest CQC report, due to be published later this month, will also be highly critical, without recognising the trust's progress.
Mr Cowdall was appointed chair of the trust at the beginning of last year.
Report 'worries'
In January, the CQC found the trust had failed to act on two warning notices about "unacceptable" staff shortages on a ward at the Royal Lancaster Infirmary.
The trust has also been the subject of investigations and inspections over the deaths of a number of babies at Furness General Hospital in Barrow.
Mr Cowdall said that by the end of June, the trust would have finalised its plans to improve hospital services.
"I believe that this is now the right time for me to hand over to a new person to lead the board and Council of Governors in the delivery phase of this work programme," he said.
He believes that in his time as chair the hospitals have already been through "a significant period of improvement".
South Lakes MP Tim Farron, whose constituency is covered by the trust, praised the work Mr Cowdall has done to try to turn the organisation around.
"I am worried about the CQC report as I've heard that it does not show or acknowledge the progress that the trust has made," the Liberal Democrat MP said.
The latest CPC report was based on inspections carried out over three days in February, and will include feedback from patients.