Caterham School minibus crash teachers 'heroes'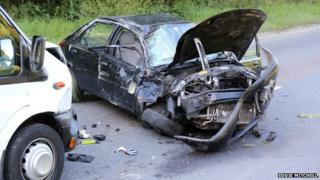 A crash that left 10 schoolgirls hurt could have been far worse if not for the "heroic" teachers driving two minibuses, their head teacher has said.
Two teenage girls from Caterham School in Surrey were taken to hospital after a car overturned and was in collision with one of the buses near Crawley.
The two minibuses, carrying pupils back from a tennis match, also collided.
Head teacher Julian Thomas said the reactions of Natalie Lomas and Rachel Hart had prevented a far worse outcome.
The buses were carrying 21 pupils, aged 14 and 15, making their way back from a tennis fixture at Christ's Hospital School in Horsham, West Sussex, at about 16:30 BST on Saturday.
Sussex Police said a 15-year-old girl suffered a broken collarbone and the 19-year-old man driving the Ford Fiesta needed stitches for an arm injury.
Nine other pupils suffered cuts and bruises, most of them from being showered in glass from the shattered windows.
Mr Thomas said: "It was a miracle that the outcome was not far worse, it could well have been if it was not for the reactions of the two teachers.
"I think they are heroes. I am a very grateful and relieved man.
"I think it was their speed of response of manoeuvring the minibuses that avoided a major collision."
He said Ms Hart and Ms Lomas, who have both taught physical education at the school for more than five years, also suffered minor injuries, but that both of them and all the girls were back at school on Monday.
Sussex Police have appealed for any witnesses to the crash to contact them.