Maidstone jail: Staff shortages bring fears of more disorder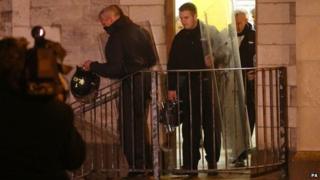 Lack of staff could lead to more unrest and inmate deaths at a Kent prison where disorder broke out last year, the Independent Monitoring Board has said.
It said it was concerned resourcing was insufficient for Maidstone Prison's new role housing foreign nationals.
It feared the pressures would lead to more serious incidents such as the the disorder in November and an increased likelihood of deaths in custody.
The Prison Service said staffing levels were appropriate to run a safe jail.
Kent Fire and Rescue Service and South East Coast Ambulance sent hazard response teams to the prison when about 40 prisoners were involved in disorder.
It was resolved after about two-and-a-half hours without injuries to staff or prisoners.
Violent detainees
The monitoring board said its report for the year to February 2014 covered a period of turbulence for both prisoners and staff at the 600-inmate category C jail.
Maidstone changed from housing mainly sex offenders to exclusively foreign nationals after the closure of Canterbury prison.
A new governor was appointed in June 2013 and a short-notice transfer of 150 prisoners from The Verne prison in Dorset led to prisoner discontent, culminating in the disorder on 2 November.
The board said there were about 32 detainees who remained in the prison despite completing their sentence, as a result of deportation issues.
Some of them were violent and likely to re-offend but may be released into the community.
The board said it would like to know what is being done to address this problem, as well as the resourcing issues.
Prison Officers' Association spokesman Mike Rolfe said it was difficult to recruit staff because pay had been reduced.
"With the staff shortfalls we have got we don't feel we have got the right support to be able to do our job and we do miss things," he said.
The Prison Service said: "Accommodating foreign national offenders together in one prison is more effective, allowing us to focus specialist immigration staff and other resources where they are most needed.
"Staffing levels remain appropriate to run a safe, efficient and decent prison and are in line with national guidelines."