Labour's all-women shortlist for Salford and Eccles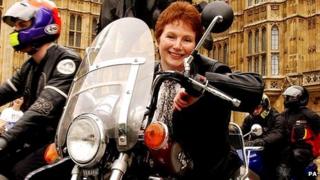 The Labour Party has decided on an all-women shortlist to succeed former minister Hazel Blears who will step down at the next general election.
The 57-year-old Labour MP, who was elected in 1997, informed her Salford and Eccles constituency members at a meeting in February.
Labour's National Executive Committee (NEC) said the decision followed consultations with party members.
More than 70 out of 135 Labour candidacies are all-women shortlists.
Labour also decided recently that there will be an all-women shortlist to replace David Heyes, 67, who is stepping down as MP for Ashton-Under-Lyne.
Ms Blears told activists she wanted to "spend more time with her family", including her mother Dorothy, who is suffering from dementia.
A former Labour Party chairman, she was elected as MP for Salford in 1997 and served in Gordon Brown's cabinet as Secretary of State for Communities and Local Government from 2007 to 2009.
---
Correspondent analysis
By Euan Doak, BBC Manchester political reporter
The decision for an all-woman shortlist in Salford is perhaps not a surprise. Two of the city's three MPs are women and the safe nature of the seat almost guarantees that will continue in 2015.
Perhaps less welcome will be the decision for an all-woman list in Ashton-under-Lyne to replace David Heyes after the local party rejected the idea. The National Executive Committee overruled them.
Of the 60 councillors on Salford Council, only 15 are Labour women. Possible candidates could be assistant mayor Gena Merrett, perhaps Sue Pugh or young hopeful Sareda Dirir.
But the seat will be of wider interest. Manchester councillors Suzannah Reeves and Rosa Battle were shortlisted for the Wythenshawe and Sale East seat along with Trafford councillors Catherine Hynes and Sophie Taylor. Unison regional organiser Angela Raynor has previously been shortlisted.
---