Severn Trent Water plans more food waste energy plants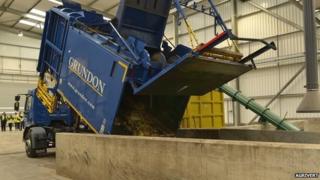 Severn Trent Water has said it is hoping to build food waste energy plants "across the region".
The firm's first electricity-producing anaerobic digester is being built next to a sewage facility in Coleshill, Warwickshire.
The £13m generator, which will produce electricity from methane, is due to start operating at the end of the year.
Despite fears over increased traffic, the company has announced it is looking for further waste energy sites.
Jane Munroe, a resident living near the Coleshill site, said: "The main problem to me is the traffic. We get a lot of traffic in our village... we have enough vehicles and pollution from vehicles in the area."
Fiona Cattell, another resident, said: "If it's going to cause smells, that's not going to be very nice.
"Transport around here is already a real issue... so if there's going to be extra transport, that's going to cause extra problems."
The Coventry-based company's planning application for the plant included a transport assessment stating there would be no detrimental impact on local roads.
Mike Surrey, from Severn Trent Water, said the Coleshill site would "save Severn Trent a huge amount of money" and be "great for our customers' pockets" as well as "helping to protect the environment".
"And this is only just the beginning," he added.
"Once the digester at Coleshill is up and running, we have ambitious plans to roll out food waste plants across the Severn Trent region, and we're looking at where we're going to put the next two plants right now."