Prince William launches school awards scheme in Goole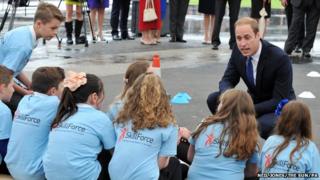 The Duke of Cambridge has launched a national award scheme for primary school children at a school in East Yorkshire.
The award is part of a programme to help nine and 10 year olds with the move from primary to secondary education.
It has been developed by Goole High School and the charity Skillforce.
The duke later visited Bradford Foyer which is the base of the youth homeless charity Centrepoint.
SkillForce uses the skills of ex-forces personnel to help young people.
Chief executive Peter Cross said the new award was aimed especially at underprivileged children who do not have easy access to activities such as sports and outdoor pursuits.
"Our programme builds up the children's confidence, resilience, teamwork and problem-solving to give them a boost before the start of new adventures and encourage them to take a more active role in their town, city or village," he added.
Arriving in Goole, the prince apologised to the waiting crowds for the heavy rain.
"I'm so sorry I didn't bring better weather with me," he told them.
During the visit he also spoke to pupils preparing for a Duke of Edinburgh Award scheme expedition.
Speaking about a packet of instant pasta and cheese he said: "Have you tried this before? It's OK, it's not too bad.
"It's better than the beef stew and dumplings which is quite a heavy one."
In Bradford, the duke helped line up shots and even filmed some interviews in the new media suite at Centrepoint's base in the city.