Trans Pennine Trail wheelchair trek raises £21,000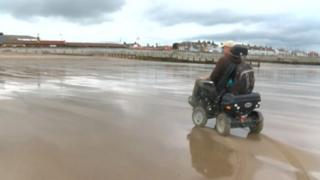 An RSPB manager has raised more than £21,000 in a bid to give the disabled greater access to the countryside, with a 215-mile (346km) coast-to-coast trip.
Roy Taylor, has Motor Neurone disease, and travelled the Trans Pennine Trail in a four-wheel-drive wheelchair.
Mr Taylor reached Hornsea, East Yorkshire, after a 10-day trek that started in Southport, Merseyside.
The money is to be used for access at the nature reserves where he works.
Mr Taylor, an area manager for the Royal Society for the Protection of Birds, said there was a "fantastic turnout" at 14:45 BST for the end of his journey at the seaside town.
'Quite arduous'
"My legs don't work... and sitting on your bones for 10-12 hours a day is painful.
"It takes a toll on my arms and neck and the journey has been quite arduous," he added.
He is now going to audit 20 RSPB nature reserves and draw up a list of changes to be made for better access.
Mr Taylor, of Denby Dale, West Yorkshire, said he wanted access to the reserves to be "just as good as for an able-bodied person".
He said he had wanted to "do something myself" to improve access even for manual wheelchair users who might not have the advanced chair he uses.
Mr Taylor said he had been asked to give a report on access to the board of the Trans Pennine Trail, and the National Trust has also asked him to help as a result of his trip.