Paxman desk among BBC Television Centre auction items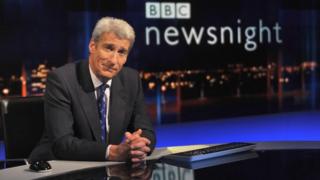 Hundreds of items, including a desk used by Jeremy Paxman on Newsnight, are to be auctioned following the closure of BBC Television Centre (TVC).
Two screens from the Politics Show and an oar from a drama about two British rowers who won gold at the London 1948 Olympics are also available.
Auctioneers, Peaker Pattinson, from Stamford, Lincolnshire, said some items dated back to the 1930s.
The online auction takes place later this month.
Other items included in the sale are a number of lip microphones, an outside broadcast phone - in its original BBC marked case, and metal signs.
Peaker Pattinson managing director Elizabeth Sewell said: "There is a range of equipment, much of it technical - but for the general public we have studio clocks - which are quite iconic - we sold a lot of these from Bush House when it closed."
She added that many of the lots were used in the production of TV shows made at the studios.
Some of the best-known programmes on British television were recorded at TVC: Dad's Army, I Claudius, Fawlty Towers, Top of the Pops, Monty Python's Flying Circus, The Two Ronnies, Blue Peter, classic era Doctor Who, Absolutely Fabulous and Tomorrow's World.