Bletchley Park codebreaker Jerry Roberts memorial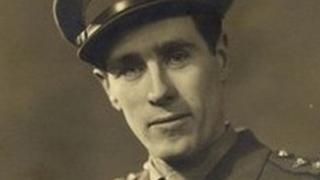 A memorial service commemorating Raymond "Jerry" Roberts - a World War Two Bletchley Park codebreaker - has been held.
Capt Roberts, from Liphook, Hampshire, was part of a group that cracked the German high command's Tunny code at the British codebreaking centre.
Their decrypts made it possible to read Hitler's own messages during the war.
The service took place at St Martin-in-the-Fields in Trafalgar Square, London, at 11:00 BST.
Capt Roberts, who died in March following a short illness, joined Bletchley Park as a German linguist and was among four founder members of the Testery section - named after its head Ralph Tester.
Their target was to crack a system known as Tunny, which carried the messages of Hitler's top generals and the Fuhrer himself.
The system used four times as many encryption wheels as the famous Enigma machine - which carried military communications.
Capt Roberts was appointed MBE in 2012 and became an ambassador for the memory of those who served in secret, including Alan Turing, who broke the naval Enigma code, Bill Tutte, who broke the Tunny system, and Tommy Flowers, who designed and built the Colossus - which sped up some stages of the breaking of Tunny traffic.
After the war, he spent two years at the War Crimes Investigation Unit before moving on to a 50-year career in marketing and research.
His wife Mei said he was "an amazing man and did remarkable things for his country and for Europe".
"I miss him more than I can say," she added.
"Sadness is never overcome, but the outpouring of recognition and admiration for him and his work have helped me through each day and made the sadness somehow easier to bear."