Commuting from the city to the farm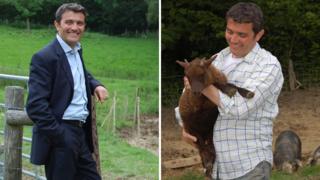 Commuter Steve Malkin is no stranger to hard work. He has spent whole nights on his East Sussex smallholding tending to his ewes during lambing season and has still caught the 07:30 train into London to do a full day in the office. But why would a businessman take on the sweat and toil of a part-time farm?
"The first thing I do is take my suit off, go out in the garden, take a cup of tea, and I stand there for 10 minutes," he says.
"It's a connection to nature. It's the most stress-free you can possibly be."
Mr Malkin says he believes the the moment he switches from businessman to smallholder is near the small village of Eridge where he lives, as his train out of London passes through "the most beautiful countryside in the whole of the UK".
"In that 15 minutes, the mobile doesn't work and there are no calls, no emails. I look out of the window and start to think about what I have got to do," he says.
The 48-year-old used to work in public relations but quit after becoming concerned about the impact his job had on the environment.
"One night I thought I can't do this any more," he says. "I was promoting products that were ending up in landfill."
Together with his wife Ros, 45, they left Sevenoaks in 2007 and decided to pursue their dream, farming a smallholding in Mayfield and bringing up their three sons close to nature.
He is now one of many smallholders who combine the pressures of a job in the big city with the hard work and peace that the countryside offers.
Mrs Malkin and their three sons feed the animals and let them out in the morning while Mr Malkin joins in after work, with big jobs such as fence repairs and fallen trees saved for him to do at the weekend.
The family keep bantam hens, ducks, sheep and pigs and grow crops which currently include onions and fruit.
Only their three cats and two dogs pets have names and all spare lambs and pigs are taken to the abattoir to be butchered, with some meat made into sausages. At one stage, the family cured their own bacon.
"We had bacon, tomatoes, sausage and eggs," Mr Malkin says. "The only thing I can cook is an English breakfast, and it was really joyous."
But is it really the good life?
When the Malkins started out they admit they "didn't have the first clue". They have had to learn everything from hedge-cutting to sheep-shearing.
"The first year it rained and rained and rained and there was all the snow. It gives you such admiration for farmers," Mrs Malkin says.
They found help in fellow smallholders, local farmers and searches on Google, which meant they were able to work out what to do when brambles caused lambs' mouths to become infected or when they ran out of hay.
The Small Shepherds Club, which supports small-scale flock owners and has about 250 members, mostly in Surrey, Sussex and Hampshire, said many types of people found keeping livestock a rewarding, lifetime hobby.
"By no means are all of our members well off," says the club's secretary Alex Finch.
"Many are 'early-retired', but there are large numbers who combine sheep-keeping with full-time jobs including shift working, as well as parents at home with small children."
Mr Malkin is now the CEO of a business based in Southwark that promotes sustainability.
The family are friends with three other commuter smallholders in Eridge, and Mr Malkin knows of another small farmer who commutes to his day job on his train.
They laugh when people compare them to Tom and Barbara from the 1970s sitcom The Good Life.
"The Good Life is exactly why it is a cliche," says Mrs Malkin. "Our friends think we're barking mad.
"I don't think you ever tire of the cycle of life. It's so exciting, seeing chicks being born, and it gives you such a thrill, you never get bored."
"Smallholders have to work. That's why they do commute. Sheep, pig and chicken food is so expensive."
"To do this you have to have a really healthy sense of humour," adds her husband. "But I would recommend it to anybody."