Yorkshire parties to mark the start of Tour de France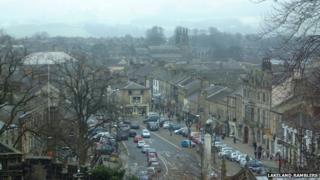 Yorkshire communities on the route of the Tour de France will hold parties to mark the one-month countdown to the start of the cycle race.
La Fête du Tour celebrations are traditionally held in cities, towns and villages every year across France.
Participants dress in yellow and hold cycle rides and have picnics along the route.
The race begins in Leeds city centre on 5 July and continues from York to Sheffield on 6 July.
Graham Titchener, from the Yorkshire Grand Départ team, said he hoped for a "feel good atmosphere".
"It's an opportunity to really celebrate this thing coming, " he said.
"It's a fun thing and La Fête is that official start that says lets get really excited about this thing."
Many cycling groups will be organising rides along parts of the route, with 600 people expected at an event organised by the Skipton Cycling Club in North Yorkshire on Sunday.
In Huddersfield, more than 200 people, including disabled riders, will take part in a cycle around the town on Saturday.
In York, a women's cycling group - the Yorkshire Bike Belles - has organised an event at the city's cycle track.
Many of the events will also be used to raise money for Marie Curie Cancer Care.