UK Coal redundancies at Thoresby and Kellingley collieries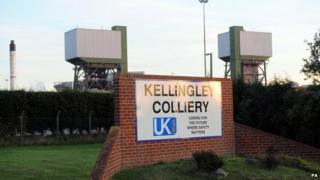 More than 300 staff at two of England's last remaining deep coal mines have been sent redundancy letters ahead of closure of the pits, a union has said.
UK Coal intends to close Kellingley Colliery in North Yorkshire and Thoresby Colliery in Nottinghamshire.
The National Union of Mineworkers (NUM) said redundancy letters were being posted to 57 Kellingley workers and to about 270 Thoresby workers.
UK Coal has not yet commented on the claims.
Chris Kitchen, general secretary of the NUM, said: "I can't see it's in anybody's interests to issue redundancy notices to anybody today, given that the company don't even know if they've got the financing in place for their 18-month closure plan."
The government has offered to loan UK Coal £10m to execute an 18-month "managed closure" of the two mines.
But the NUM is considering an employee buyout of Kellingley Colliery.
Mr Kitchen added: "Given that the pits are performing better than expected, these redundancies could be put on hold, which would give a better chance of a rescue package being put together - whether it's an employee buyout or state aid."
UK Coal has blamed its financial problems on the global market, with falling coal prices, on top of a fire which destroyed, and subsequently closed, its Daw Mill Colliery in Warwickshire.
Alan Spencer, general secretary of the NUM for Nottinghamshire, said: "They [the workers] are just waiting for the postman to come and for these letters to drop on their doorstep.
"It's a terrible situation when you don't know if you are going to be finishing tomorrow, especially when there's coal underground and it could be made profitable."