Snetterton race driver 'unaware' of Stephen Jewell crash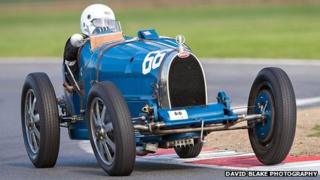 A racing driver who clipped another car when he overtook it was "unaware" it then crashed into barriers at a Norfolk circuit, killing the driver, an inquest has heard.
Stephen Jewell, 63, from Tewkesbury, Gloucestershire, was driving a 1924 Bugatti T35B in a practice session at Snetterton Circuit in September 2013.
He was thrown from his vehicle and died in hospital of multiple injuries.
Coroner Jacqueline Lake said she would not rule on what had caused the crash.
The hearing in Norwich was told Mr Jewell had been preparing for the Seaman Memorial Trophies race meeting, organised by the Vintage Sports-Car Club.
He was was driving the Bugatti at about 80mph when he was overtaken by a supercharged 1934 English Racing Automobile (ERA), which had reached 100mph.
No seatbelt
During the manoeuvre, one of the ERA's back wheels made contact with a front wheel on the Bugatti.
Mr Jewell's Bugatti careered off the track and crashed into a barrier, throwing him from the vehicle.
He had not been wearing a seat belt, but the inquest heard from the Royal Automobile Club that some vintage cars could not accommodate them.
The ERA driver James Hulbert told the inquest he thought he had enough room to overtake the Bugatti on the right.
He said he felt a blow to his left rear tyre, which he imagined had struck the front wheel of the Bugatti, but was unaware of what had happened.
The first he knew that something was wrong when saw a red flag, indicating that drivers should stop, he said.
Ms Lake said there had been contact between the two cars but she was not prepared to rule on what had caused the accident.
An inspection after the crash revealed there had been no faults on the Bugatti.
Ms Lake recorded a narrative verdict and said Mr Jewell, who had 40 years experience of racing, had died of as the result of a collision on a race track.