Fugitive 'Skull Cracker' jailed for life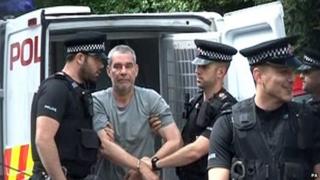 An armed robber nicknamed the "Skull Cracker" has been jailed for life for raiding a Surrey building society while on the run from an open prison.
Michael Wheatley, 55, pleaded guilty to the £18,350 raid at Chelsea Building Society in Sunbury on 7 May.
He also admitted possessing a firearm and being unlawfully at large.
Judge Christopher Critchlow at Guildford Crown Court ordered him to serve a minimum of 10 years. Wheatley appeared via video link from prison.
The court heard he previously robbed the same building society branch 13 years ago and staff had been told to be on their guard following his disappearance.
Judge Critchlow said this was a "special case" because of Wheatley's prolific record of violent armed robberies and committing offences after being released from prison.
"It is clear the public must be protected from you for a long time," he said.
Blunt weapon
The court heard Wheatley had 23 previous convictions for robbery, two for attempted robbery and 18 for related firearms offences.
He was serving a life sentence at Standford Hill prison on the Isle of Sheppey in Kent, when he was granted day release and failed to return on 3 May.
He was arrested in Tower Hamlets, east London, after being on the run for five days following the Sunbury raid.
In 2002 he was given 13 life sentences for raids on banks and building societies.
Wheatley earned his nickname for using an imitation handgun as a blunt weapon to hit people - including a 73-year-old woman - during his robberies.
He had gone on the run twice in the past and each time staged a series of violent robberies before being caught and re-jailed.
His failure to return to Standford Hill sparked a storm of protest.
Release ban
Conservative backbencher Philip Davies, MP for Shipley in West Yorkshire, said whoever had allowed him out of prison was "a berk"
Prisons minister Jeremy Wright later said there would be a full review of the release on temporary licence process.
Following sentencing, justice secretary Chris Grayling said: "Keeping the public safe is our priority and I will not allow the actions of a small minority of offenders undermine public confidence in the prison system
"With immediate effect, prisoners will no longer be transferred to open conditions or allowed out on temporary release if they have previously absconded, and there will also be no unrestricted 'town leave'."
Kevin Perry, 53, of West India Dock Road, east London, also appeared via video link from prison charged with assisting an offender, perverting the course of justice and handling stolen goods.
Mr Perry did not enter any pleas and was remanded in custody until 18 July.