New Gatwick runway 'would destroy ancient woodland'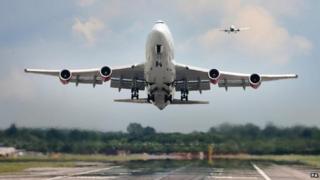 A proposed second runway at Gatwick Airport would destroy ancient woodland, campaigners have claimed.
The Woodland Trust believes each of the three plans put forward by the airport would "obliterate" a large amount of "irreplaceable habitat".
Mole Valley Council has also queried some of the predicted economic benefits the new runway would bring to the area.
Gatwick Airport said its proposals are still being developed and the public consultation continues.
The airport had previously suggested building a new runway at Gatwick would be less damaging to the environment than expanding Heathrow.
But the Woodland Trust has dismissed this claim, believing up to 19 acres (7.7 hectares) of woodland would be destroyed.
Campaigner Katharine Rist said: "Ancient woodland is an irreplaceable habitat, therefore it should not be lost to development."
However, she said the trust was against adding a runway at Heathrow as that would lead to the destruction of ancient trees around the site.
Francis Maude, the MP for Horsham, has also declared he is against the second Gatwick runway because of the environmental impact on the area.
Meanwhile, Mole Valley District Council has expressed concerns about how much the proposals will benefit local communities.
The council has questioned the accuracy of Gatwick's growth forecasts.
Gatwick has claimed a second runway would create 120,000 jobs in the area by 2050, but the council believes predictions have lacked clarity.
Councillor John Northcott said without accurate figures it was not possible to judge whether the region would be able to cope with the added demand on resources like housing.
However, he did admit the council would need to take into account the potential economic loss to the area if a new runway was not added.
Jeremy Taylor, a spokesperson for the Gatwick Diamond Business Association that supports the plans, said adding a new runway at Gatwick was essential.
"We need the jobs locally and that is what Gatwick provides," he said.
Both Gatwick and Heathrow have submitted expansion plans to the Airports Commission, the group charged with deciding how UK air capacity should be expanded.