Mother 'risks death' if deported to native Nigeria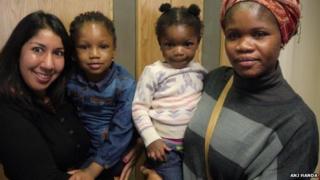 A Christian mother battling deportation risks being killed if she is forced to return to her native Nigeria, campaigners have warned.
Afusat Saliu, 31, who lives in Leeds, was arrested by UK Border Agency staff on Wednesday.
She fled Africa in 2011 after her stepmother threatened her daughter with female genital mutilation (FGM).
Campaigners say border officials plan to put the mother-of-two and her children on a plane to Lagos later.
More than 120,000 people have signed a petition calling for a halt to her deportation amid fears she will be targeted by Islamic militants Boko Haram.
Anj Handa, a close friend, said: "There is a risk of forced FGM on her two children if they are made to go back to Nigeria. Afusat is a victim of that herself.
"The worry is that she could be singled out. There is a real threat that her life could be in danger if she returns," she added.
'Last resort'
Ms Saliu moved to Leeds three years ago and converted to Christianity.
It is understood she was taken into custody and detained at a holding centre in Sheffield before being moved on to a family immigration centre in Crawley, West Sussex.
Her solicitors BP Legal have launched a judicial review to keep her in Britain.
Bhumika Parmar, from the firm, said: "Normal practice is that once judicial review is issued, the Home Office rarely removes as a right to a fair hearing should be exercised.
"In fact, their own guidelines state that detention should be a last resort."
The Home Office said it considered every claim for asylum on its individual merits.
A spokesman added: "We believe that those who fail to establish a genuine fear of persecution should return home voluntarily. If they do not, we will enforce their removal."