UKIP tops Euro vote in the East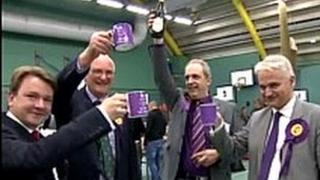 It was no great surprise that UKIP topped the poll in the European elections but it confirms that the party is now a major player on the region's political scene.
Their share of the vote here rose to 34.5%, an increase of 14.9%, which delivered them a coveted third seat, in addition to the two they successfully defended.
"It's been quite a fantastic night for us," the newly elected MEP Patrick O'Flynn told us."We have beaten the mighty Conservative party in one of its heartland areas of the country."
So what of the Conservatives? Well there was relief that they were able to hold on to all three of their seats
"A lot of people wrote off our third seat," admitted Vicky Ford MEP - including themselves, we believe...
"They said there's no way we'll hold three sets in the east of England and we have. So, tick, job done".
But the reality is that even they are bemused by what went on here. Three seats to UKIP and three to the Tories with the vote share for the blues only dipping by 2.7% since last time.
UKIP support
With the Conservative vote holding up, it begs the question as to quite where the UKIP support came from.
Figures show that the BNP vote in the east dropped from 97,000 in 2009 to 12,500 this year and there are certain to be some Tory voters who put their cross in the UKIP box.
But it is unlikely that no red votes went purple in May. If the local elections are anything to go by, the Labour Vote going UKIP in areas like south Essex, Harlow and Great Yarmouth could have made a significant contribution to the UKIP tally.
Although superficially Labour's vote in the east looked much improved with a 50% increase, the reality is that they started from such a low base after only gaining 10.5% at the last European elections.
Labour hopes of gaining a second seat were dashed. MEP Richard Howitt put a brave face on it. "I fully accept Labour need to do more to get our message through. I believe it can and will happen."
But with turnout figures for Luton, the bedrock of Labour support in the region, at 28.2%, it was clear that at least some of the Labour vote had failed to come out.
Nationalistic wave
The Liberal Democrat vote halved since the last European elections, leaving them with only a 6.8% share of the vote and losing them their only seat.
Former MEP Andrew Duff will return from Brussels after 15 years. He warned:"I think the country is experiencing a wave of nationalism which I don't like and I can't justify it."
The Lib Dems came a poor fourth to the Greens, whose vote held steady at 8.8% but a seat in the east remained elusive. European candidate, Dr Rupert Read, has said he won't stand again.
"We won more Green votes than in any other Region of the country except where Greens were elected and we have laid great foundations for the future in this region. We now sit on far more councils than Greens in any other region and the difference this time was that we beat the Lib Dems. British politics is now five-party politics."
While it is worth remembering that the turnout for the east was 36%, so two thirds of people didn't vote, it looks likely that in the east UKIP attracted people who don't usually vote at all.
More than half a million people here, that's one in three who bothered to go to the polls this time, voted for UKIP.
UKIP's Patrick O'Flynn says:"We've connected with the people in the east of England," while the other parties keep repeating that the UKIP vote is a protest vote. That is sounding like an increasingly hollow claim.