Ambulance cuts will put 'lives at risk', union warns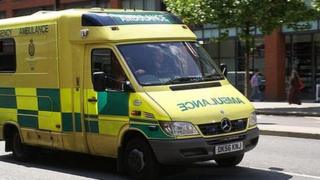 Lives could be "put at risk" in the North West by a move to cut ambulance services, a trade union has warned.
The North West Ambulance Service (NWAS) is planning on taking a number of ambulances off the road overnight to help save about £14m this year.
Bury, Bolton, Wigan, Blackpool, Carlisle and Penrith will all lose some overnight services under the move.
The NWAS said for non-life threatening situations, patients would be "pointed in the right direction" for help.
Paul Foley, of Unison, said the move was not "putting patients first".
He said: "If you take emergency vehicles out overnight, the response times to emergencies will be reduced and there is a risk to patients.
"Saying there's someone at the end of a telephone who can talk a patient through whether they need to dial 999 is just delaying the service. Someone who is having a stroke or a heart attack needs an ambulance there rapidly."
'The right place'
Unison said some ambulance services during the day would also be affected in Ellesmere Port, Formby, Warrington, Burscough, Blackburn, Leyland, Accrington and Nelson.
Derek Cartwright, director of operations at NWAS, said: "This decision is not easy, we have done a lot of things before it has come to this.
"We have sold ambulance stations, we have moved paramedics into fire stations, we have removed some management posts, so we have got to the point where we are stuck in this position."
The service has been trying to deal with more 999 cases on the phone, he added.
He said more than 20% of 999 patients did not require hospital treatment, so people were now being referred "to the right place".