Tingley man arrested after bungalow explosion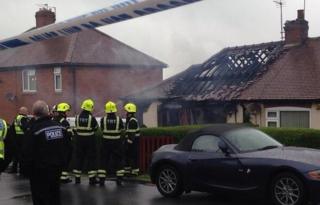 A man who was injured in an explosion at a house near Leeds has been arrested on suspicion of arson.
Fire crews were sent to the bungalow in The Crescent, Tingley, at about 09:35 BST, after reports of a house on fire.
The 46-year-old man, who freed himself from the house, was taken to hospital suffering from burns to the arms and the effects of breathing in smoke.
The fire is being treated as suspicious and an investigation has been launched, West Yorkshire Police said.
Six nearby properties were evacuated by police officers and council workers following the explosion, but no-one else was injured.
'Explosion went off'
Neighbour Barry Bedford said: "I was watching the TV and [the house] blew up. A big bang and the whole sky was smoking."
Mr Bedford's wife, Joyce, was in bed when she heard what she described as a series of explosions.
She said: "I heard the first bang and then Barry shouted 'get out of bed'.
"As I was getting out of bed the second explosion went off and then, when we were outside, another explosion went off.
Another neighbour, Jess, who was asleep at the time of the explosion, said the scene was "unbelievable".
"I just looked out and saw masses of smoke and flames. At first I thought I must still be asleep," she said.