Child arrests by Devon and Cornwall Police down 74%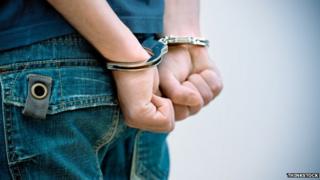 Child arrests in Devon and Cornwall have fallen by 74% in five years, new figures have shown.
In 2008, police arrested 5,495 children compared to 1,431 in 2013, said The Howard League for Penal Reform.
It said several forces had reviewed their arrest policies as a result of the charity's work with them.
Devon and Cornwall Police said the drop was "really encouraging", but there were occasions when arrest was the only option.
Figures released by the charity showed police in England and Wales made more than 1.3 million child arrests between January 2008 and December 2013.
'Intimidating and daunting'
Last year, officers made 129,274 arrests of children aged 17 and under - 1,107 of which involved children aged 10 or 11.
Supt Toby Davies, of Devon and Cornwall Police, said being arrested and kept in a cell can be an "intimidating and daunting" experience for a child.
"There are times when it is the only option, for example to prevent crime, to stop an individual harming themselves or others and if we can't locate a young person's parent or appropriate carer," he said.
"Arresting a young person may not be the only option and we continue to develop working with partners to reduce the number of young people who enter the criminal justice system."
A number of factors might have contributed to the drop, including more young people being dealt with by restorative justice, he added.
Frances Crook, chief executive of the charity, said: "The challenge for police now is to maintain this trend.
"At a time of austerity, further reducing the number of children arrested would free up more officer time to deal with serious crimes."