Canterbury Cathedral repairs get £11.9m lottery boost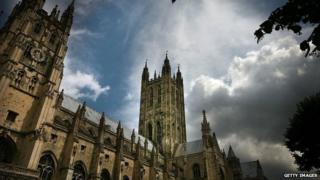 Urgent conservation work is planned for Canterbury Cathedral after the Grade I listed building was promised lottery funds of £11.9m.
A visitor centre is also planned at the cathedral, which attracts more than a million visitors a year.
Some £72m has been earmarked by the Heritage Lottery Fund (HLF) for six museums and attractions across England.
Museums in County Durham, Blackpool and Plymouth won support as well as Bath Abbey and Nottingham Castle.
Work on Canterbury Cathedral in Kent will include restoring Christ Church Gate and weatherproofing and stabilising the Nave and West Towers.
The overall scheme will cost £19.4m and HLF has allocated £11.9m which includes a £930,400 development grant. The cathedral has to raise the rest of the money.
The Very Reverend Dr Robert Willis, the Dean of Canterbury, said: "Now we have two years to crystallise our plans - and to raise the £7.4m of matched funding that is required.
"That will be an immense challenge, but it is one that my colleagues and I accept with relish."
Caves under castle
HLF trustee Angela Dean said the site was "an extraordinary part of our collective heritage," and added: "Regardless of faith, its magnificent structure cannot fail to impress."
The cathedral, founded in AD 597, has been a world-famous centre of pilgrimage since the murder of Archbishop Thomas Becket there in 1170.
Cash earmarked for other schemes across England includes £12.9m for Nottingham Castle to open up caves beneath the site and to redevelop its museum and art gallery.
Some £10.4m is to go to conservation work at Bath Abbey, along with new customer and catering facilities.
The Beamish Museum in County Durham is to receive £10.7m for improvements to the site and work to create new jobs and training opportunities. The museum will also provide an activities space for people living with dementia.
Blackpool Museum is to be created in Lancashire with funds of £13.6m.
And Plymouth History Centre in Devon will get £12.8m to bring its archives, films and artefacts together in a new centre.
All six sites have been given a "first-round pass" which is when all the funding is earmarked and outline plans are endorsed.
They will now go through to a second round when they will use some of the money to submit final plans and secure the full amount.